---
(Gambar) Mohd. Fadzli Azri Jamil Dihukum Gantung Sampai Mati : Kes Bunuh Adik Syafiah Humaira
Posted: 22 Sep 2010 07:28 AM PDT
Gambar Pembunuh adik Syafiah Humaira 3 Tahun 
Mohd Fadzli Azri Jamil Kena Hukum Gantung Sampai Mati
Insaf? Apa perasaan pijak perut kanak-kanak 3 tahun dengan kasut bola ye?
Muda lagi, usia baru 28...tapi dah kena hukuman mati...memang setimpal dengan kesalahan dia...
Mampu tersenyum ? Hurm...bersedialah ke tali gantung ok...harap harap kau sempat bertaubat sebelum mati.
Gambar Syafiah Humaira 3 tahun - dibunuh oleh Mohd. Fadzli Azri Jamil
Gambar Syafiah Humaira sewaktu dikafankan...
[Mstar] SHAH ALAM: Pemandu teksi, Mohd Fazli Azri Jamil,28, Rabu dijatuhi hukuman gantung sampai mati selepas Mahkamah Tinggi di sini mendapati dia bersalah menyebabkan kematian anak kepada teman wanitanya. Kanak-kanak perempuan itu, Syafiah Humaira Sahari berusia tiga tahun.

Keputusan itu dibuat oleh Hakim Datuk Mohtarudin Baki selepas mendengar perbicaraan yang berlangsung selama tujuh bulan itu.

Tertuduh yang merupakan kekasih kepada ibu Syafiah Humaira, Siti Nurhanim Aziz didakwa membunuh mangsa dengan cara menendang dan memijak perut kanak-kanak tidak berdosa itu kerana dikatakan enggan memakai selipar.

Kesalahan itu didakwa dilakukan pada pukul 6.30 petang, 25 Februari lalu di padang bola di Jalan Utama, Batu 30, Ulu Yam Lama, Batang Kali.

Pendakwaan terhadapnya dikendalikan mengikut Seksyen 302 Kanun Keseksaan.

Syafiah Humaira yang manja dipanggil "Pia' merupakan anak kedua Siti Nurhanim, 25, seorang bekas pelayan kelab malam hasil perkahwinannya dengan seorang anggota polis, Sahari Usul.

Sahari kini berada dalam tahanan reman kerana sedang dibicarakan atas tuduhan membunuh.

Siti Nurhanim juga mempunyai seorang lagi anak, Syakimie Iqbal hasil hubungannya bersama tertuduh.

Syafiah Humaira disahkan meninggal dunia akibat kecederaan di bahagian perut, kepala dan juga abdomen. - Sumber-
http://silampuneon.blogspot.com/feeds/posts/default?alt=rss
Kes Remaja Kembar Hilang Selesai (Update) : Dua Remaja Lelaki Mungkin Disabitkan Hukuman 20 Tahun Penjara & Sebatan !
Posted: 22 Sep 2010 07:04 AM PDT
2 rakan lelaki 3 remaja perempuan hilang ditahan reman
22/09/2010 6:20pm
 Kalau remaja tu rela pun, orang lelaki tetap kena hukum gak...hurm...
Remaja perempuan harus belajar "say no". Jangan mudah terpedaya dengan teman lelaki. Penuhilah usia muda dengan perkara yang berfaedah...bila jadi perkara ni, family mesti malu...satu kampung malu. Aku harap mak bapak dia tabah...bersabarlah dalam mendidik anak...
GEORGETOWN 22 Sept. - Dua lelaki yang ditemui bersama tiga remaja perempuan yang dilaporkan hilang sebelum ini, hari ini ditahan reman bagi membantu siasatan berhubung kes rogol gadis bawah umur.

Ketua Polis Daerah Timur Laut, Asisten Komisioner Gan Kong Meng berkata, kedua-dua lelaki berusia 19 dan 20 tahun itu yang berasal dari Kampar dan Teluk Intan, Perak, ditahan reman selama tujuh hari mengikut Seksyen 376 Kanun Keseksaan yang memperuntukkan hukuman penjara maksimum 20 tahun dan sebatan, jika sabit kesalahan.

Kedua-dua mereka ditemui bersama remaja pasangan kembar berusia 14 tahun serta teman sebaya mereka yang dilaporkan hilang di Kampar sejak 11 September lepas dan ditemui dalam sebuah flat di sini semalam.

"Berdasarkan keterangan tiga remaja wanita terbabit, mereka mengaku melakukan hubungan seks dengan dua lelaki itu ketika berada di sebuah hotel murah di Jalan Pintal Tali di sini," katanya pada sidang akhbar di sini hari ini.

Katanya, hasil pemeriksaan di Hospital Pulau Pinang mendapati terdapat kesan koyakan pada kemaluan tiga remaja perempuan terbabit dan polis kini sedang menjalankan siasatan.

Beliau berkata, mereka memberi kerjasama dan mengakui secara rela hati mengikut teman lelaki ke negeri ini pada 14 September iaitu tiga hari selepas mereka dilaporkan hilang. - Sumber
http://silampuneon.blogspot.com/feeds/posts/default?alt=rss
Clinic Duty and Raya Visit Round 2
Posted: 22 Sep 2010 06:51 AM PDT
I was on clinic duty again today, and this time I went a wee bit early with the hope of getting a proper parking space without having to go around the hospital a few rounds.
Well yes, I did get a proper parking space at a parking lot nearer to the Pusat Rawatan Harian, but much further to the specialist clinic where I was heading. But then, walking is a good form of exercise, no?
Immediately upon arrival I headed straight to the doctor's room to check with the nurse if there were any new cases to be referred today. There were supposed to be three, but none of them were there yet. So I just waited at the usual room, took out my netbook computer and did some work. Meanwhile I also observed the PLHIVs being counseled about their ARV by the pharmacists with whom we were sharing the room.
At one time a lady came in with her 7 year old son. While the mother sat at the table where the pharmacists were, the son was more interested to sit at the chair beside mine, since I was at that time using my netbook computer.
Boy: "I want to play your computer can or not?"
Me: "Cannot, I want to do some work."
Boy: "Got game or not? I want to play."
Me: "No, no game. I use this computer to work, not to play."
Boy: "I press ah?" (then put his fingers on the enter key)
Me: "Don't. I want to work, ok?"
Boy: "If I press, then?"
Me: (make donno)
Boy: "If I press, THEN WHAAAT?" (then he started pressing a few keys on the keyboard)
I gave him my usually deadly stare, but it didn't seem to work with him. Luckily the pharmacists were done counseling his mother, it was time for them to leave the room. But before they left, the boy pointed to my tudung and said, "Why you wear like that one? Take out la!"
Aiyo, this boy… luckily his mother is not one of our clients, otherwise whoever becomes the buddy would probably have their patience tested whenever he/she visits them at their home!
Anyway, although there were supposed to be 3 new cases, only 2 came. One, a young Malay guy, an ex-IVDU. Although it was his first appointment at Ipoh GH, his case wasn't really a new case. He had earlier done his follow-ups in KL and only recently moved to Perak and had his appointments transferred to Ipoh. So, there was not much I needed to explain to him as he had already gone through all the explanations before.
The other case was of a single Chinese lady in her thirties. She went to do her full blood tests recently, and it was then she found out that she had been infected. She suspects she must have got infected by her previous boyfriend as she couldn't think of any other way she could have been infected.
--------------------------------------
Yesterday I went for round 2 of my raya visits. The 3rd family on my list… Lin's. I had already bought 3 hampers on Monday, one delivered to Fuzi, one to Sofie, and the 3rd one was meant for Lin. This time I decided to go in the morning. As I reached her house at about 10 am, her 2nd daughter (the one studying medic overseas) was outside hanging her laundry.
"Baru mandi ke?", I asked.
"Hehe… belum lagi pun!" she replied, and then went inside for her bath.
Only 2 of Lin's 6 children were home. No. 1 and no.3 were back in Klang Valley where they're currently studying. No. 5 and 6 were in school. No. 2, the daughter whom I met oustide, is due to go back overseas soon. No. 4, Lin's 18 year old son, was all ready to go to work, but he was waiting for his boss to come fetch him. (Waaah, class gitu, nak pergi kerja boss yang datang ambik!)
While Lin's first 3 daughters did quite well in their studies, her son didn't seem to do well. When he was in form 5, he was more interested to lepak with his friends. Lin had quite a tough time trying to discipline this son. But I was happy to note that the boy had improved quite a lot in his attitude. Despite not doing too well in his SPM, he managed to get a job and seemed keen. Maybe he has finally found something that interests him. And unlike during my previous visits when he'd just stay away, this time he was more talkative. Hmmm… big improvement I must say. His other siblings had always welcomed me to their home, and now with the changes I see in this boy, I felt even more comfortable visiting them.
Lin had been working hard during fasting month, sewing clothes especially for neighbors. In fact, some were begging her to do some last minute alterations, or to accept last minute orders.
With her no. 1 and 3 expected to finish their studies by next year, I believe Lin's financial worries should be over in the near future. Her first 3 daughters had always been supportive of her all along and after knowing them for more than a year, I believe they will help their mother and younger siblings financially once they can get themselves a job. I look forward to the day when Lin's wellbeing is taken care by her children instead of her having to worry about their wellbeing.
----------------------------------------
Tomorrow I plan to visit another family, and on Friday 2 more families…
Menstrual Cups Sebagai Ganti Pads Atau Tampon Waktu Period : Cawan Lembut Yang Dimasukkan Dalam Vagina Bila Period & Boleh Digunapakai Hampir 10 Tahun !
Posted: 22 Sep 2010 05:50 AM PDT
 Macam gula-gula la plak...itu dia cup (cawan) dan yang ekor tu (penarik dia)

Jangan fikir kotor ye bila baca entri ni. Aku terpikat pulak dengan Miacup or Menstrual Cup ni masa surf kat internet lama dulu. Dah lama nak post entri pasal Miacup ni! Entri ni berguna dan berfaedah...so, try to keep your mind clear if you read my entri ok.
Sebagai seorang perempuan, kita selalu spend duit untuk beli pads yang berkualiti, tahan lama, yang tahan bocor punya. Beli pads, guna pads, dan buang pads. Itu tak termasuk pantyliner lagi...So, kena jugaklah spend duit untuk beli pads, pantyliner setiap bulan...
Aku memang selalu terfikir, kalau pads boleh jadi reusable. Bukan pikir kotor ke ape, cuma ia lebih berbaloi ! Bayangkanlah pads tu boleh dibasuh, tak payah la beli pads banyak banyak lagi...tapi sanggup ke korang nak basuh pads yang penuh dengan darah tu ? Naik pengsan tengok darah sendiri kan ? Ok lah, kalau nak setuju pun, mungkin aku akan basuh pads tu dengan mata terpejam (pancut air tu laju laju laa)
Miacup tu ape? Miacup tu sejenis cawan yang dibuat dari silikon. Dia lembut, boleh digulung...digunakan sebagai ganti kepada pads atau tampon untuk perempuan yang period. Miacup ni best sebab dia boleh dipakai balik, bila cawan dah penuh dengan period, kita boleh keluarkan dari vagina dan basuh. Fikir la, kalau kita pakai Miacup kan kitra boleh pakai balik sampai 10 tahun...berapa banyak duit kita save tok beli pads ? Gila eco-frienly kan ! Dan lagi satu, aku rasa kalau pakai Miacup ni, kita lebih bersih ! (giler terpengaruh kan kan)
Cara nak menggulung cawan menstrual tu...dan beza cawan Miacup dengan Tampon !
Tapi kan, dalam otak mesti terfikir kan ...
Tak geli ke pakai ni ?
Tak sakit ke pakai ni ? 
Tak bocor atau keluar darah ke pakai benda ni ?
So, korang kena tengok video awek cun kat bawah ni dulu...
Bila tengok video ni, macam yakin je boleh guna Miacup kan...sungguh meyakinkan laa ;)
Yang ni pulak testimony orang yang dah guna Menstrual Cups ni...gila heaven bila aku baca testimony ni ;)
What can I say?! I've been using my mooncup for 18 months now, and if I were to choose the single greatest investment in my health, my savings, and my womanhood I've ever made - this is it. I love my mooncup! I still go shouting from the rooftops about it (Ok, not literally...). I'm willing to try most things, so when I heard about it I thought 'Oh yeah, why not?'. At first it was a bit tricky to use, and it took a couple of periods to get the hang of it, but after that it became second nature. I've been swimming in the sea, swimming at pools, to karate class in a white dogi/uniform, spent 8 days with the heaviest period I've ever had in a filthy music festival... no leaks, no spills, no cramps, no problems. It's so interesting being able to see what your body's doing too, as weird as that may sound - I'm a naturopath so I suppose I have that bias - but it makes things so much more useful, especially for things like fertility watching and monitoring, or if you're ever at the gynae. I can't believe how much money I've saved already, and how easy it is to use. You could almost forget it's there - no smelly tampons to deal with or nasty pads sitting in your knickers, no sneaking off with a tampon in your hand at work, no cramps, no dryness, no infections, no problems, and nothing polluting this beautiful planet. It's perfect! See how I go on and on?! Once again - Thank You!! Erin
http://silampuneon.blogspot.com/feeds/posts/default?alt=rss
This posting includes an audio/video/photo media file: Download Now
Why i seem so distracted lately
Posted: 22 Sep 2010 04:24 AM PDT
I don't believe in being a full-time blogger,
i mean, what is that anyway?
Sure, blogging takes up some time,
especially when i have to edit a mountain of travel pix,
but i'm getting to a phase where i sometimes don't KNOW what to blog about.
And i don't want blogging to be like work.
Cos that would take all my fun away.
Been up to a few things here and there…
Meetings, pitches, research, and… cleaning my room.
My wardrobe is a spilling mess and much organisation is being sorted out.
Also, my father is adamant about moving my bed to another position in my room.
Something to do with its occupant being able to have a lasting relationship.
Hrmm.
+ + +
I started contributing to the blog section in a beauty and style website called The Style Glossy.
Their office is in NYC and they've sourced contributors (a few ex fashion editors) from South East Asia.
You can view the blogposts *here*
+ + +
The company Chelle, Jac and i started up early this year has been really quiet since our fashion show + event for Nike Sportswear.
We were working on another project that didn't quite turn out the way we expected,
and have since then decided to just work with each other so that it WILL WORK OUT.
We're ready to launch something new next month,
so start saving your money haha.
+ + +
Cervical cancer is the second most common cancer in women (after breast cancer)
Here are some figures for you to understand how widespread the disease is:
Globally,
500,000 cervical cancer cases are reported annually
80% or more of these cases are from developing countries
270,000 deaths occur each year from cervical cancer
Every 2 minutes, a woman dies of cervical cancer
In Asia Pacific,
266,000 cervical cancer cases are diagnosed in Asia Pacific
143,000 women from this figure die from this disease
41% of women in developing countries receive necessary treatment to survive
Every 4 minutes, a woman dies of cervical cancer
[Read the rest of the post *here*]
As one of the ambassadors for Power Over Cervical Cancer,
i agreed to emcee an event next week to raise further awareness on cervical cancer.
POCC Bloggers Tea Party
Tuesday 28th September
7pm @ Ecoba Mutiara Damansara
If you're a blogger and would like to attend, do drop me an email at joycethefairy@gmail.com and i'll ask the PR people whether there's any more space.
If you're not a blogger or can't attend, do share your stories to increase knowledge and awareness on the disease.
Write it on Facebook, Tweet about it, or blog about it!
You never know, a story told/read could save someone's life.
Also check out www.pocc.com.my for more information on reducing your risks, and vaccination.
Delhi Commonwealth Games in trouble
Posted: 22 Sep 2010 03:03 AM PDT
The 2010 Commonwealth Games, scheduled to be held in India's capital city Delhi on Oct 3-14, is facing trouble over security and safety concerns.
An Australian discus champion and an English triple jumper have withdrew, and more than 40 officials and athletes from the Scottish team have delayed their flight to Delhi. And New Zealand's prime minister said that he would support any of his country's athletes who did not attend.
The venue preparation was always in questions, but the Commonwealth Games inspection team still gave a green light last year for Delhi to go ahead, probably in consideration that the Indians have had a decent record to rush things up with their excessive manpower.
Delhi Commonwealth Games in trouble from YeinJee's Asian Blog
Posted: 22 Sep 2010 01:16 AM PDT
Here's a confession. I'd be lying if I said I wanted to completely quit my job to stay at home all the time and be with Paul. Conversely I'd also be lying if I said didn't actually want to be a stay-at-home-mom or, SAHM, the new-age term we've all grown so fond off. It isn't because we can't afford a parent to be home all the time, after all, making that choice is really quite simple - some adjustments here and there, shifting of priorities, letting go of life's little luxuries. The truth is, I'm constantly torn in between the two choices, because I'm the kind of person who really loves this side of her life, the career-woman type.
Now if only, if only, there were such a thing as the perfect employer here. Someone who can appreciate a woman's need to be with her kid, and also her desire to continue to contribute to building her career. I know I can make that choice of going 'independent', be a work-from-home consultant, where I can schedule my times in and out of the house and contribute more time to being with Paul. But the crazy thing about me is this, I absolutely, totally enjoy being in the office as well, I really pride myself in the work I do, I love with people who're my colleagues, and even though my superiors can be incredibly difficult sometimes, it's still nice to be part of a great big organization; it's nice to head to work, to see my desks, and even though meetings can be unbearably and crazily long (and many times, unnecessary), I do enjoy being a part of these decision making processes. I know with a firm certainty that I will certainly become a very lousy mother if I were to completely let go of my career and become totally devoted to Paul, because I am just not that kind of person – but at the same time, I really crave to be able to spend more time with Paul.
I wonder… when will our employers here ever start to understand the concept called the flexi-hour work program? Will they ever really start to walk their talk and actually begin to measure contribution in terms of results rather than the traditional 'you're hardworking if you spend a lot of time in the office' bull.
I wonder.
Lot 10 Hutong @ Bukit Bintang, Kuala Lumpur
Posted: 22 Sep 2010 12:56 AM PDT
Lot 10 Hutong, Malaysia's first Gourmet Heritage Village opened its doors in November 2009. Boasting 27 eateries, Hutong is comprised of low chiu pai (heritage brands) street food stalls handpicked by YTL Corp's Tan Sri Francis Yeoh and non-heritage Western/Asian stalls. The heritage brands are family enterprises in their second and third generations, inheriting their skills and age-old recipes from their parents, grandparents and even great-grandparents.
Celebrity food critic and TV host Chua Lam used his calligraphic skills to write the characters "Lot 10 Hutong" in Chinese for the brand's logo.

The beauty of this place is that you get to sample several famous hawker delights at one time without having to drive to different parts of town (or country even). And all in the comfort of an air-conditioned and clean environment. The rustic-looking food court was even designed by an award-winning architect, Yuhkichi Kawai of Japan.
Featuring famous local Chinese cuisine such as bak kut teh, wantan noodles, beef noodles, roast duck, Seremban siew pau, and Hokkien mee, we knew we were in for a real treat when we finally made it here. The food court also have other stalls such as German Cafe, Kissaten (Japanese) and Thai Corner.
Mo Sang Kor Bak Kut Teh from Klang
Out of the 200-odd bak kut teh shops in the Klang area, Mo Sang Kor was singled out to set up shop in Hutong. The owner, Lee Ah Sang, insists the actual cooking must be done by a family member to ensure authenticity of their bak kut teh. The bak kut teh served in Hutong is actually cooked off site in one of their Klang kitchens. Lee's son, Alvin delivers pots of bak kut teh daily and supervises the running of their stall in Hutong.
We enjoyed the thick, robust bak kut teh soup. Alvin recommended a mixture of pun fei sau (Half Fat Half Lean) pork cuts and they were good. I would have liked more soup. Also, one must finish off the bak kut teh quickly as the air-conditioning tends to cool the food down relatively quickly and bak kut teh is best enjoyed hot/warm.
Prices are slightly expensive; we ordered the Set B which came with a bowl of soup with pork cuts, oily rice and a chinese tea for RM16.20.

As we found out later during a visit to their branch in Taman Berkeley, Klang, one can get the same for half the price (more on this in another blog). However, the convenience of getting to eat this in the city makes up for the high price.

Ho Weng Kee Wantan Noodles from Petaling Street, Kuala Lumpur
Ho Weng Kee was opened in 1935 by Ho Weng, using a family recipe he brought with him from Guandong, China. Currently, it is run by his son Ho Chan Tong.
A plate of wantan noodles dished up with utmost efficiency
Rows and rows of glistening char siew (BBQ pork)
Char siew wantan noodles (RM7.90) is their bestselling item and it's easy to see why. They make their own wantan noodles, which explains the delightfully springy texture. I love that they serve the noodles with pickled green chillies. And the thick chunks of char siew were remarkably flavoursome and tender.

My favorite in Hutong, the char siew wantan noodles

Campbell Mini Popiah from Lorong Tiong Nam, Kuala Lumpur
Low Puay Hong, the lady boss of Campbell Popiah still makes her own thin egg skins for the popiah.
As we arrived at Hutong pretty early, we were fortunate not to have to queue for these delectable morsels. They only make 2 types of popiah here, the vegetable or egg skin popiah. Let the owner know which skin type you want and whether you like it spicy or non-spicy, and the guy sets off to work.
We loved the popiah here as the filling was very flavoursome. Minimum order is 2 pieces, at RM2.30 per piece for the vegetable skin popiah.
Soong Kee Beef Noodles from Jalan Tun Tan Siew Sin, Kuala Lumpur
Siew Koy Soong started the Soong Kee Beef Noodles business in 1945. Now in his 80s, the business has since been passed down to his son, Siew Wei Han. Soong Kee prepares their ingredients such as beef balls, tripe, minced beef stew and chilli sauce in their main kitchen and delivers it to Hutong daily.
The owner's grandson ladling beef balls into a bowl
The beef noodles here uses thin egg noodles (the wantan noodles variety), which are generously topped with minced beef. A bowl of this along with a bowl of tripe/beef balls, oyster sauce vegetable and chinese tea will cost you RM8.50. The beef noodles were tasty, but it did not quite do it for me. When it comes to beef noodles, I still prefer the
Seremban beef noodle
version.
However, I did like the beef balls here as they were nice and bouncy.
Hon Kee Porridge from Jalan Hang Lekir, Kuala Lumpur
The Hon Kee name spans three generations starting from their late grandfather Wong Yu Wah, who started the congee business 60 years ago in Petaling Street, Kuala Lumpur.

The workers slicing the raw fish for the porridge


The porridge was really delicious with a thick and smooth consistency. They were generous with the ingredients, a mixture of pork innards (chee chap) and fresh raw fish slices (RM7.80). Perfect eaten with the yu tiao (fried dough stick) (RM1.40).
Yummy porridge
Kong Tai from Singapore
Kong Tai is most famous for its Singapore Hokkien Prawn Mee and Fried Oyster Omelette (or chien).
Cooking plate after plate of or chien

We spotted lots of people carrying plates of or chien back to their table. So, we ordered a plate too. At RM9.90 per plate, it is not cheap. We found the omelette to be a little too starchy for our liking. However, they do use very big and juicy oysters in their omelette, which I guess justifies the price. For us, the Penang version trumps this.
Kim Lian Kee from Petaling Street, Kuala Lumpur
This is by far the most popular stall in Hutong during our visit. Throngs of people queue up just for a plate of the their famous charcoal wok-fried Hokkien Mee. A glass vestibule was even specially constructed at their Hutong stall to keep sparks and ash from the charcoal at bay as they believe using gas fire will compromise the taste of their noodles.
The workers were busy plating up dish after dish of Hokkien mee. I observed that they cook only 1 plate at a time (which is good). They also proudly displayed a sign letting customers know that they will still be using charcoal instead of gas fire here to cook their noodles.
The Hokkien noodles (RM8.90) were definitely fragrant, flavoursome and full of wok hei. There was definitely no shortage of lard fritters (chee yau char) in this dish. Some people love it so much, that everyone in the family had a plate of Hokkien mee, EACH!

Luk Yu Tea House
A non-heritage stall, Luk Yu Tea House serves dim sum and Chinese tea.
The lady pushes the cart of dim sum around the food court
We were too stuffed to order any dim sum, however we ordered 1 char siew pau for Baby C as she loves them.
And that concludes our food adventure at Lot 10 Hutong.
Non-halal.

Opening times: 10am to 10pm daily, although it is advisable to come early as some stalls run out before dinnertime.
Verdict: We were able to enjoy delighful hawker fare in a comfortable environment. While some may argue that the prices are too high for hawker fare, bear in mind that you are in a shopping centre and for the price you pay, you get delicious tasting food.


Location: Hutong Food Court, Lower
Ground Floor, Lot 10 Shopping Centre, Jalan Sultan Ismail, 50250 Kuala Lumpur, Malaysia.
Park Hyo-shin – I Love You music video (Athena OST)
Posted: 22 Sep 2010 12:27 AM PDT
Korean music video of I Love You by Park Hyo-shin. The song is an OST for upcoming drama ATHENA, starring Jung Woo-sung and Soo Ae…
ATHENA is dubbed as a spin-off of hugely popular 2009 spy-action-flick IRIS and is one of the most anticipated Korean dramas of the year.
Park Hyo-shin – I Love You music video (Athena OST) from YeinJee's Asian Blog
This posting includes an audio/video/photo media file: Download Now
Taylor Swift - Speak Now Lyrics
Posted: 22 Sep 2010 12:07 AM PDT
Taylor Swift - Speak Now Lyrics
The way you move is like a full on rainstorm
And I'm a house of cards
You say my name for the first time, baby, and I
Fall in love in an empty bar
And you stood there in front of me just
Close enough to touch
Close enough to hope you couldn't see
What I was thinking of
Drop everything now
Meet me in the pouring rain
Kiss me on the sidewalk
Take away the pain
Cause I see, sparks fly whenever you smile
Get me with those green eyes, baby
As the lights go down
Something that'll haunt me when you're not around
Cause I see, sparks fly whenever you smile
So reach out open handed
And lead me out to that floor
Well I don't need more paper lanterns
Take me down, baby bring on the movie star
Cause my heart is beating fast
And you are beautiful
I could wait patiently but
I really wish you would
Drop everything now
Meet me in the pouring rain
Kiss me on the sidewalk
Take away the pain
Cause I see, sparks fly whenever you smile
Get me with those green eyes, baby
As the lights go down
Something that'll haunt me when you're not around
Cause I see, sparks fly whenever you smile
I run my fingers through your hair
And watch the lights go out
Keep your beautiful eyes on me
Gonna strike this match tonight
Lead me up the staircase
Won't you whisper soft and slow
I'd love to hate it
But you make it like a fireworks show
Drop everything now
Meet me in the pouring rain
Kiss me on the sidewalk
Take away the pain
Cause I see, sparks fly whenever you smile
Get me with those green eyes, baby
As the lights go down
Something that'll haunt me when you're not around
Cause I see, sparks fly whenever you smile




Posted: 21 Sep 2010 11:16 PM PDT
Imma blog about some of my fav shops in Harajuku and Shibuya 109.
But before that of course we  need these pic you can skip.
#1
Swordfish romper from minimaos. Sold out though.
#2
Cheat One™ AnnaSui Cherry bag.
#3
#4
Two of us were to shop whole day yet wear wedges  to match outfit FOL.
#5
#6
Walking to Harajuku.
#7
Pinky
#8
Elaynne  & Maylene at Meiji Shrine.
#9
Making a wish! (I very sincere wrote in hiragana ok! Easier for Japanese gods to read i think)
Then we took a cab (YES CAB!) to Harajuku. Actually i had been avoiding cabs in Japan all my life cuz everyone is like no matter what you do, crawl if you must but AVOID CAB AT ALL COST so generally cab just wasn't an option. But thanks to Wendy's divaness i discovered if it's just around the city it isn't so bad after all. Starting fee is 710 yen and from the Shrine to Harajuku was not more than 710 yen so if you have a few friends to share it's totally worth it to take a cab. Esp under 35C hot sun wtf. Wendy kept saying this is the most worthwhile ride ever, which i cannot disagree
.)
We arrived at Harajuku after 5 minutes or so and we were ecstatic because we kind of felt very smart to have paid 710 and saved all the time and sweat cuz the boys and Nuffies were still walking out of the jungle wtf.
AND WE HAD EXTRA TIME TO DO THIS:
#10
Eat Harajuku crepe T____T
(Later when the boys and Nuffies arrived they said we totally missed an intellectual debate about Ancient Concubines while they were walking in out of the jungle wtf -______-)
(I mean, yeah, sure. Argument about sex with many women totally beats the best crepe in the world, no doubt.)
#11
FYL. You can haz no crepe muhahahaha.
#12
Fav shops in Harajuku!
#13
Liz Lisa
#14
I WANT ALL.
#15
Tutuanna. Believe it or not i actually bought this fur bra wtf.
And everybody was like "what the fuck for???"
And i was tempted to reply, "exactly."
:X
#16
109!!!!!! Gave myself some botox and straightened my teeth and I think i over injected Wendy's lips with filler in this pic.
#17
Haha found ways to camwhore while busy shopping
Shops i like in 109 (actually i like almost all)
#18
Peach John
#19
Shoe shop at the 7th floor. Forgot the name but i love all their boots T____T
Then they will put signs like, "Featured in Vivi" or Popteen or Scawaii or whatever, then i'll be like OMG IF I BUY THIS I WILL WEAR BE WEARING THE SAME BOOTS AS LENA, or like purposely buy a copy of Scawaii after that and go all OMG LOOK ISN'T THAT THE PAIR OF MONSTER FUR I'M WEARING! *proud wtf
Erm, yea.
#20
GUESS WHO TOOK THIS PICTURE HAHAHA
#21
One*Spo is all military and a little aristocrat this season i <3 it max!
#22
#23
Rose Fan Fan is a bit of a compromise of Liz Lisa wtf.
#24
Swordfish.
#25
And of course Liz Lisa *greedy
(FYI minimaos started selling some Liz Lisa summer collection. Go check them out.)
#26
All their fur ponchos and nordic pink chain bag is driving me cheeses. T_T
There are of course a lot more other brands i like that i couldn't steal a pic of. I like Moussy, Glad News, Dazzlin, Lagunamoon, W♥C (by Wakatsuki Chinatsu). I don't like Cecil McBee anymore i think their fashion is getting too… normal. Outrageous fashion anytime.
#27
Our shopping. Walked until brokeback fol.
#28
Err this was testing outfit for Disneyland wtf. Bandana top By DRWCYS from minimaos.
Trying to pull a Lena
RPK's son acquitted of theft, break and entry charges: Still has two charges
Posted: 21 Sep 2010 10:39 PM PDT
The son of fugitive blogger Raja Petra Kamarudin's son was today acquitted of two charges of theft and breaking and entering.
In her judgement, Shah Alam Magistrate Court Judge Norkamilah Aziz said that the prosecution failed to prove a prima facie case against Raja Azman Raja Petra (
left
) and according to Raja Azman's lawyer, J Chandra, the accused still has two
other charges
of theft pending against him.
When contacted today, J Chandra said, "We will submit for a disposal of these charges following the decision today."
 
Raja Azman, 33, was arrested on May 6 and had on May 19 plead guilty to breaking into a house and stealing a number of items, including a mobile phone and a wrist watch. Later, he changed his plea and claimed trial in June, and claimed trial for all charges, including to stealing a motorcycle.
wordworkscreativewriters : Message: Inside a writer's head
Posted: 21 Sep 2010 10:19 PM PDT
wordworkscreativewriters : Message: Inside a writer's head
Am reading a collection of short stories by Sheila O'Flanagan, and the first story starts like this:
=======
Jennifer Jones sat at the table on her balcony.
No, thought Corinne, that's too boring. It doesn't say anything, doesn't let people know where she is. Or what sort of person she is. Or what might be about to happen to her.
Jennifer Jones watched the crystal-clear water from the chair on her balcony.
But what's she doing sitting down? Corinne asked herself. Why is she sitting around like a lame-ass when she's somewhere gorgeous and exotic? And when she's supposed to be gorgeous and exotic too? And especially when she's supposed to be a sassy action heroine? She shouldn't be sitting anywhere just looking at the sea like a feeble pensioner. (Though pensioners don't have to be feeble. Note to self: how about a pensioner heroine for a future novel? Mightn't that be interesting? Or is that too Agatha Christie? Miss Bloody Marple, of course. Nobody can do a pensioner like Miss Bloody Marple, can they?) Corinne frowned as she looked at her revised opening sentence again. I haven't even said that it's the sea she's looking at, have I? Crystal-clear water could be a lake. I'm still not giving any information about what's going to happen to her at all.
Jennifer Jones... Jennifer Jones... Corinne stared at the open laptop in front of her. Oh bloody hell, she thought. What the hell is going to happen to her? I've no damn idea. She pushed the laptop away from her in disgust and stared out over the blue and white wooden rails of the balcony of Room 404. She sighed deeply. Bloody Jennifer Jones. She loathed the woman. Detested her. Hated her. Abhorred her. Corinne pulled the laptop towards her again and clicked on the thesaurus. Abhor. Abominate. Deplore. Detest. Dislike. Execrate. She frowned. Was execrate a verb? She wasn't sure. She'd never heard of it before. But it would do. If it meant what it was supposed to mean, then she absolutely totally and utterly execrated Jennifer Bloody Jones.
=======
Thought some of the writers here might be able to identify with this! *grin*
The Malaysia International Gourmet Festival (MIGF) 2010 Gala Launch @ Sunway Convention Centre
Posted: 21 Sep 2010 09:51 PM PDT
More than 2000 of the country's who's and who's gathered in the Grand Ballroom of Sunway Convention Centre last night for the Gala Launch of one of Malaysia's top culinary event – The Malaysia International Gourmet Festival (MIGF) .
An annual event, which started from a humble beginning of a dozen establishments a decade ago now has more than 70 fine dining restaurants in the country; & we see the numbers growing yearly.


For 2010, MIGF showcases 30 top fine dining restaurants taking part in the month long (1st – 30th Oct 2010) festival themed "Magical Chefs".
Below are the list of 30 restaurants that we can look forward to their gastronomical MIGF menu this year:
• Al – Amar – Pavillion KL
• Bunga Emas & L' Heritage - Royal Chulan Hotel
• Celadon - Pavilion KL
• Chalet - Equatorial KL
• China Treasures - Sime Darby Convention Centre
• Chynna, Iketeru & Senses - Hilton KL
• Makan Kitchen – DoubleTree by Hilton KL
• Lai Po Heen & Mandarin Grill – Mandarin Oriental
• Lafite, Shang Palace & Zipangu - Shangri -La KL
• Dynasty, Med @Marche – Live, Sagano - Renaissance KL
• Villa Danieli – Sheraton Imperial KL
• Fu-Rin – Holiday Inn Glenmarie KL
• Zing - Grand Millennium KL
• The Club – The Saujana KL
• Neo Tamarind -Jalan Sultan Ismail, opposite KL Life Centre
• High Tide – Menara Taipan, Jalan
• Nerovivo - Jalan Bukit Ceylon, KL
• Vansh - Starhill, Jalan Bukit Bintang KL
• The Olive - Maxim Genting
• Seasonal Tastes – The Westin Langkawi Resort & Spa
• The Pomelo – The Banjaran Hotsprings Retreat.
Each of these 30 restaurants showcases selected dishes from their specially crafted MIGF menu for the guests to sample yesterday. The crowd that jostled for the food makes you forget that this is a posh event. Well, I guess that's cos the food must be really good!
One particular station had a pole dancer gyrating  the whole night. I wasn't too sure the crowd at the station is mesmerized by the food or the dancer.
Below:
Deputy Minister of Tourism, YB Datuk James Dawos Mamit & Organising Chairman YBhg Dato' Steve Day during the officiating ceremony, surrounded by spontaneous Festival Master Chefs in an 'orchestra' of pots & pans in unison with a Latin band.
So get your wallets ready, check your calendar & make a date with one of the restaurants this coming October!
Casinos in Sabah??; Commonwealth Games Stadium collapses!; Gordon Brown's wife's Twitter page hacked, redirects to Japanese porno!
Posted: 21 Sep 2010 09:33 PM PDT
Look, folks: it's Hump Day! On to the news:
(Photo from the New York Times)
What does it mean to be a Malaysian? Read Found in Malaysia to find out!
Posted: 21 Sep 2010 09:54 PM PDT
The history that we learn in our school textbooks tells us where our parents and grandparents came from, but only very simply. It was more of a general, overall description filled with neatly categorised people. Found in Malaysia, however, sheds a new light on what it means to be a Malaysian, growing up in Malaysia (pre- and post-independence).
It consists of 50 carefully selected interviews conducted by the Nut Graph team of journalists, with subjects from all walks of life. High-profile personalities and celebrities like Sheila Majid and Tiara Jacquelina are included, as well as politician Sivarasa Rasiah and political scientist Dr Farish Noor. They reveal the origins of their forefathers, how they dealt with issues (including racism) in the country, and what makes them truly Malaysian. Little black and white portraits and photographs accompany each interview, making them seem more personal.
What's refreshing about this book's read is how taboo subjects like homosexuality and transgender issues come to light, especially how the mainstream media deals with such topics. In "Stop censoring who I am", an interview with Pang Khee Teik, he talks to The Nut Graph about discovering homosexuality and acceptance.
And then, there's the problem of fitting in. What if you were tossed into the "dan lain-lain" category? Where would you stand? In "The hybrid-Malay Malaysian dilemma", Dr Farish Noor recollects his memories of growing up in schools in Malaysia, and how he was ridiculed for his mixed ancestry.
The back portion of the book contains four exclusive interviews with Datuk Zaid Ibrahim, Tan Sri Rafidah Aziz, Datin Paduka Marina Mahathir, and Ramli Ibrahim. The interviews here are longer than the rest, which gives us a little more insight into these respected figures. In the interview with Tan Sri Rafidah Aziz, the so-called "Iron Lady", Shanon Shah spoke to her about topics like first dates, gender equality, and the future of Malaysia.
A truly eye-opening book, as you will learn that you are not alone in your struggles towards a Malaysia that is united. The stories that are told here are poignant, and not anything you'd roll your eyes at (unlike a 1Malaysia ad).
Found in Malaysia is priced at RM45.00 and is available at all major bookstores.
Sorry saya tersalah " awak woman sangat"
Posted: 21 Sep 2010 09:13 PM PDT
Tadi akak bukak " Tagged " sekali ade orang bagi mesej..and add friend...akak pun bukak
akak tengok gambar dia... cam ni...
sebab semua pose gambar dia cam ni...akak comment lah pic dia..akak cakap
" Chantek kakak"...
sekali dia balas ini lah....
"sy bukan kakak...sy rockers...sbb sy main gitar , band boy..tu rmbt panjng...semua lagu sy layan..sbb band org kahwin...rockers..rmbut panjg sbb band rock bkn dangdut... pendekar rmbut pnjng sbb x tau knpe..pendekar dulu2 rmbt panjg...mungkin dia kakak jugak..hehehe???"
sorry yer cik abang...saya ingat awak pondan..muka woman ok...sekali mat rock daaa....
..
Appreciation Grows, Hennessy XO & Michelin Star Chef, Alvin Leung
Posted: 21 Sep 2010 09:00 PM PDT
The youth of today and their single malts. In my day, the trickle of Hennessy X.O. into a glass of crackling ice, was the sign of ultimate luxury. It was a rare treat, given only during Chinese New Year and special occasions. Speaking of special occasions.....
..my dear buddy, AWHIFFOFLEMONGRASS (AWOL), very kindly included me in her exclusive list of invitees for Hennessy's XO Appreciation Grows, a lah dih dah event, organised by Hennessy, Moet Hennessy Diageo Malaysia Sdn Bhd (formerly known as Riche Monde Malaysia), and Milk PR Sdn Bhd, (who was the one who invited us thru AWOL, thank you very much).

At RM800 per person, we were full of heightened expectation, wondering what wonders lay in store in a specially constructed dome on the grounds of the Bukit Kiara Equesterian club, actually built on the site where horses did their daily trots around the corral. We were ushered into the outer sanctum of the large marquee, in the comforts of airconditioning, while waiting for the laggard guests to trickle in. When an invite says 6.30, black tie, one would expect a bit of punctuality.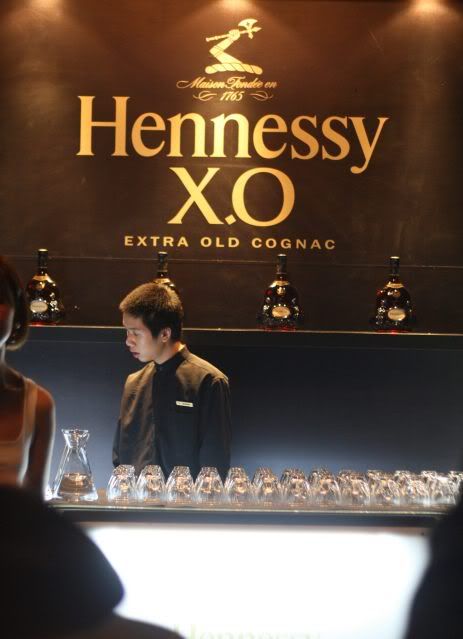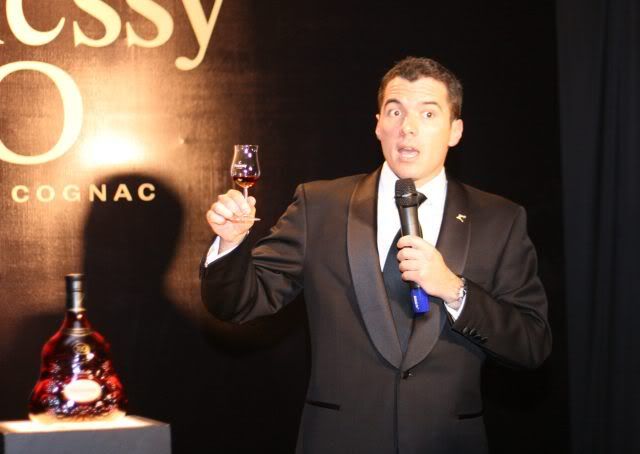 We were then ushered yet another step closer into the holy of holies, into another sanctum, where we donned on state of the art wireless headsets that didn't work, but were regaled with the story of Hennessy XO, by the dashing Regional brand ambassador, Arnaud Mirey.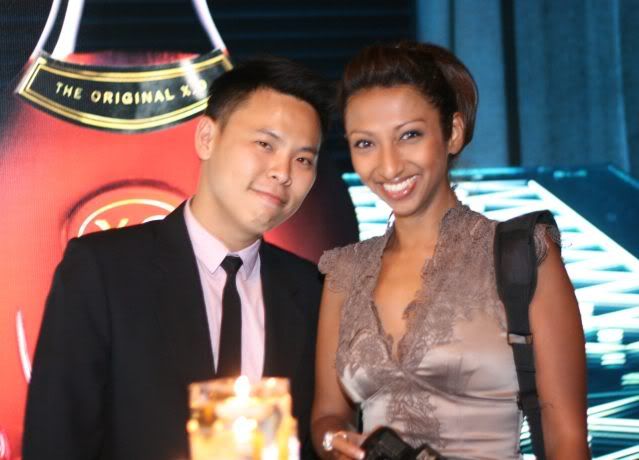 The Kuala Lumpur glitterati....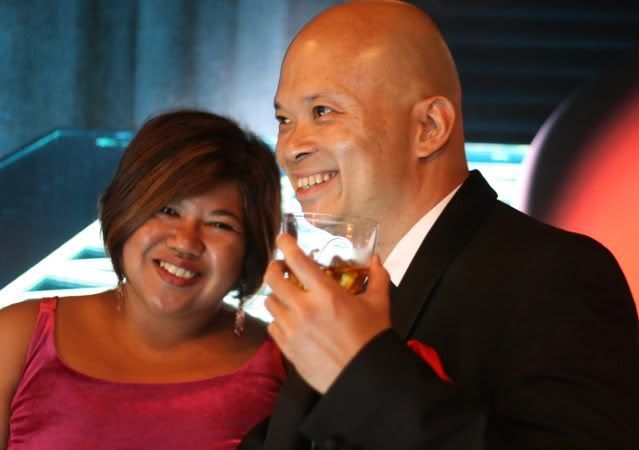 Speaking of Kuala Lumpur glitterati, if you know these two, you probably know the whole of KL. The inimitable Nigel Skelchy, who takes half an hour to move 20 metres because he has to stop and say hallo to everyone.



Happiness, apart from family, good health, friendship, love and all that, is seeing bottles and bottles of expensive liqour waiting to flow down our throats.



The Man of the Hour, Michelin Star Chef Alvin Leung, sharing a light moment with Frederic Noyere, MD Of Riche Monde Malaysia, in a "press conference" like setting. The floor was open to a very shy press, to ask questions. Of the 4 or 5 questions asked, I think 3 came from OUR group, namely Nigel, of course, and our very own celebrity, Aly of Red FM.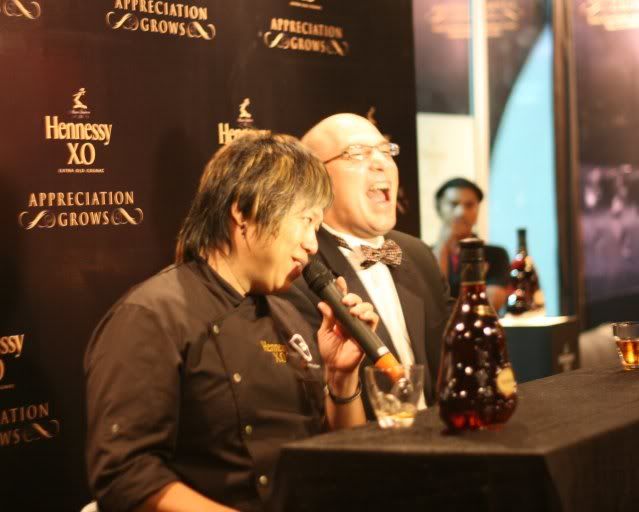 Alil naughty monkey, with BabeKL in the background!



She looks like she's crooning, That's What Friends Are For.



Our Menus, wrapped in a black napkin, like a tuxedo laidat. So classy hor!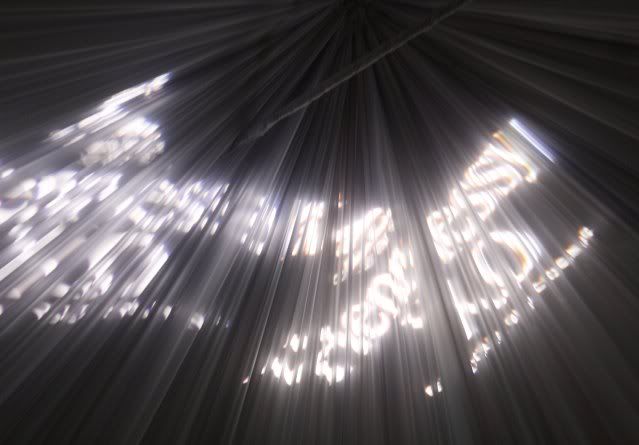 The circus has come to town...the main dining area is one big domed tent, a bit like Hogwarts..the ceiling changes pictures and theme according to food that is served. Rather interesting concept.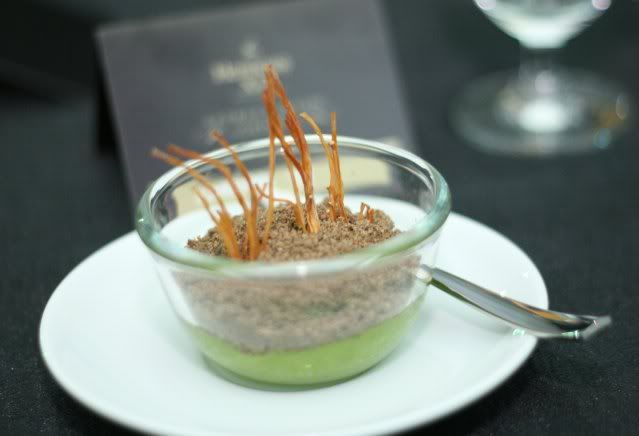 The first dish was Glass Garden, an avant garde Hong Kong interpretation of a garden dish, made from baked morel soil, dehydrated enoki, braised caterpillar fungus, and green onion puree. It's supposed to resemble a vineyard in winter? Dried vine plants on the brown soil. I thought this dish was quite amazing. The green onion puree was something very unique, and the flavours were intriguing. Familiar, yet completely new. The texture, ethereal, and light.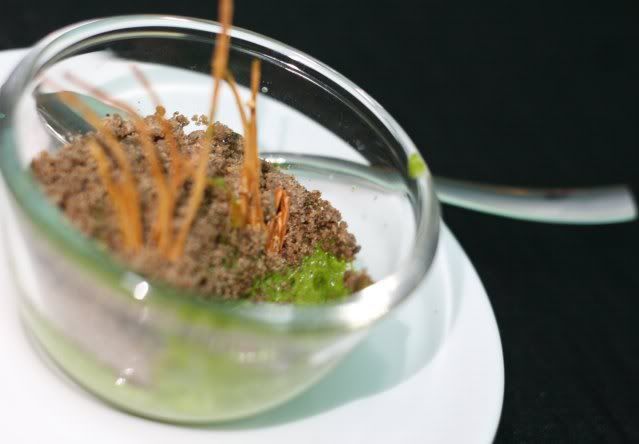 The combination of the dried morel soil, which was delicious, with the green mousse was also inspirationally clever.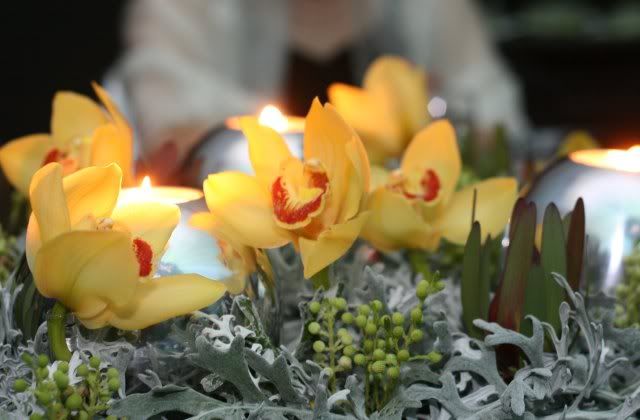 Orchids seem to be the FOTD. (flower of the day) [cheers to you, Fratmustard]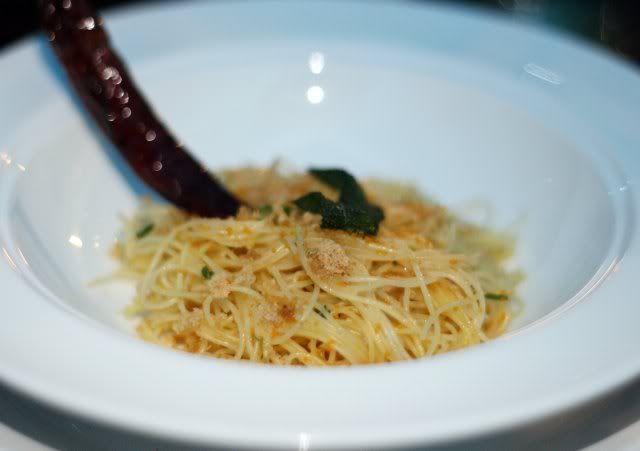 Har Mi...or Har Mai, a perfectly executed crouton of carebinero, sauteed capellini, roasted cherry tomatoes and deep fried sage. In English, its basically dried shrimp that has been cooked for 48 hours (much like serunding), tossed together with angel hair pasta. A lot of people declared this their favourite dish. Again, it was the familiarity and comfort food element of this dish that probably appealed to the palate, but yet, with that added culinary twist that we could never quite replicate.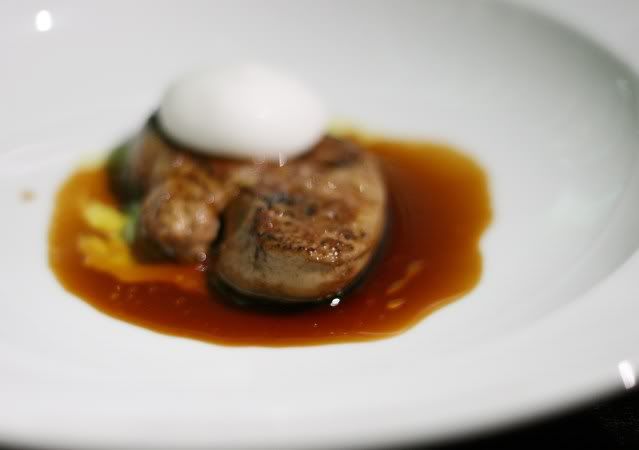 Of course, Foie Gras is always MY favourite. So I was delighted when the health conscious like Nigel decided only to have a morsel of his, and passed the crumbs to the waiting rakyat. Palate Fantastique, pan fried foie gras meticellulose and xantana. I like it, when I don't know the meanings of more than half the words in the description.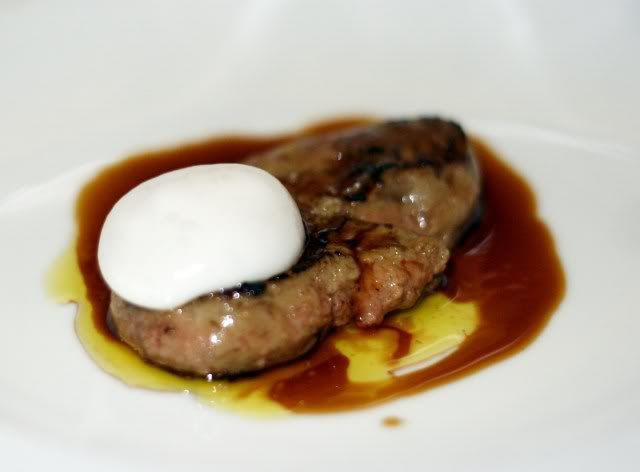 Melt in the mouth, and that blob of foam on the foie gras, (molecular gastronomy ma!), awesome. Incidentally, all these dishes are paired with the XO, which our in house culinary guru, Nigel, pointed out, completed the flavours. Apparently there was always a missing element that was made complete only with a sip of the XO. My unsophisticated palate could of course make no such distinction, and I thought the food tasted remarkable, with or without the XO. But there is no doubting that the XO was remarkable as well.


A rare treat, when we were given the opportunity to savour the smooth delicate moments of the ULTRA LIMITED EDITION HENNESSY X.O. MATHUSALEM, a 6 litre bottle of ultra limited goodness, created by master blender and secret keeper, Yann Filloux. Arnaud here is demonstrating how to use his rod to extract the precious fluids.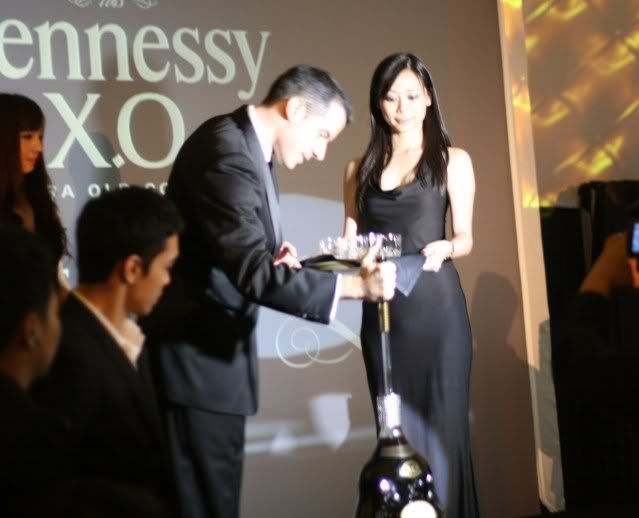 Kukomi Intrigue, an umami dish, created from boiled chicken soup, sous vide egg white, foie gras and julienne truffle. I thought the soup itself was a bit on the salty side, but you see, it had to be drunk with the accompanying egg white at the base, completing the flavours. Gold leaf floating on the surface added a nice touch to the already glittering event.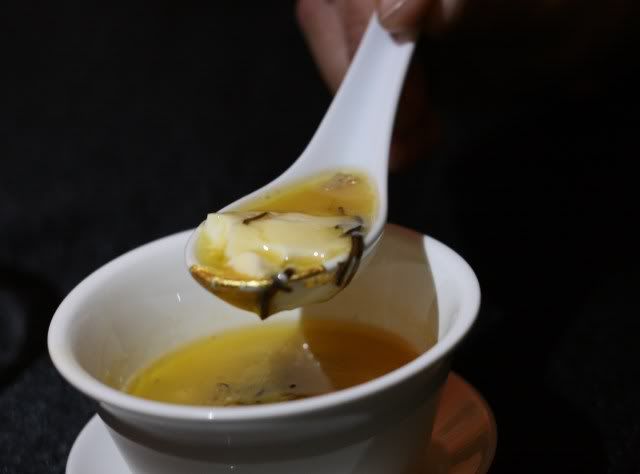 Nigel wastes no time in trying HIS hand at using the rod and poking it into the precious fluid.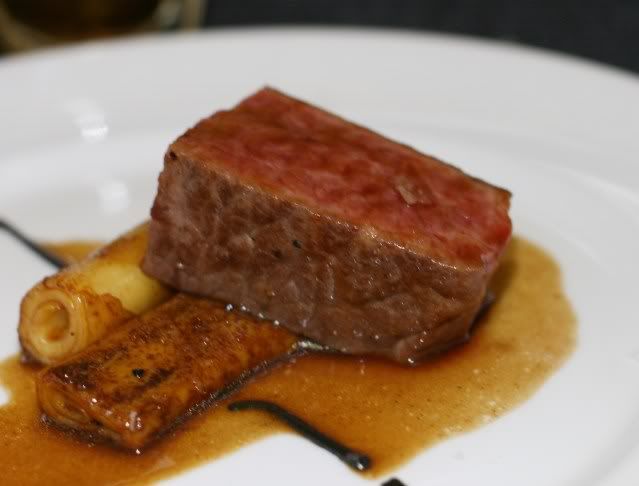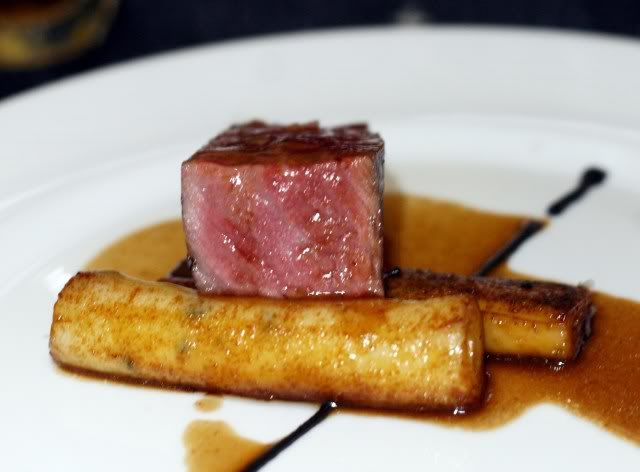 Wagyu Wonders, Alvin Leung's specialty of sous vide wagyu striploin, cheung fun and black truffle. The texture of the cheung fun was amazing, springy yet not overly so, and the wagyu was simply sublime. Tender, melt in the mouth but yet with that texture of beef, that doesnt make you feel like you're swallowing pure fat. Lovely.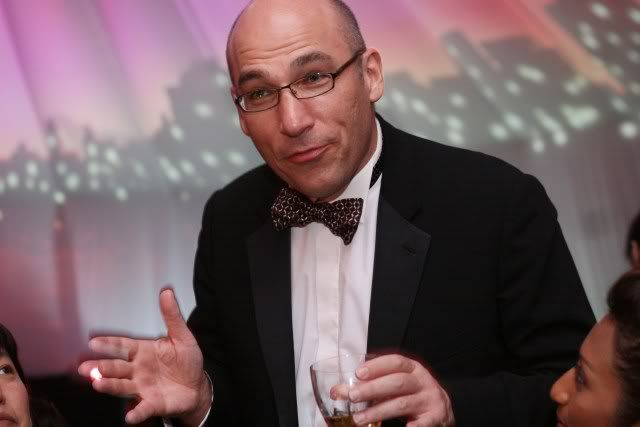 The very affable Frederic Noyere, playing the perfect host, going from table to table.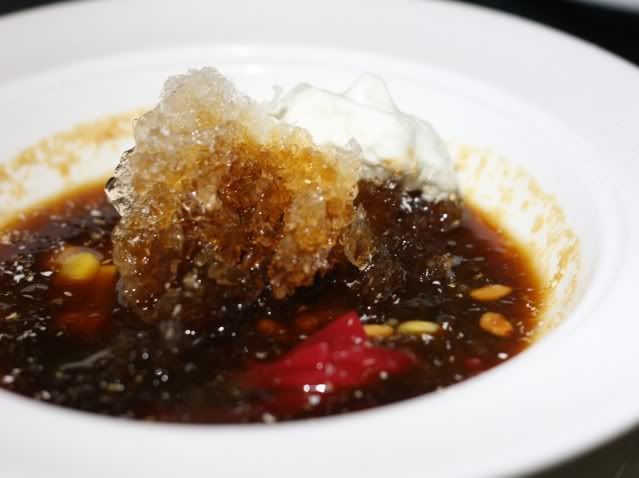 Dessert..probably the most daring dish of the night. Named Eastern Ascent, an unforgettable dessert of kikorangi (NZ) blue cheese, milk, cream and dried longan granita. A glamorized leen chee kang, some said. Yeah, this was definitely the most interesting dish, in the sense that it was daring step of faith, intermarrying the intense odor of blue cheese, with a basically pedesterian tong shui. I enjoyed it, but it wasn't my favourite for the night.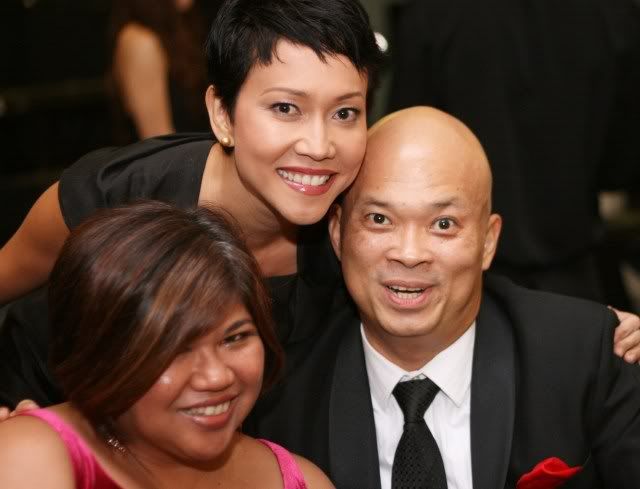 Stars of a feather flock together.



An encore dessert, basically a tiramisu with liberal doses of X.O., that wasn't on the menu. I would have preferred it served cold. Ours was at room temperature.



Our Michelin Chef, and rising comic star, Alilfatmonkey.



To read more about Chef Alvin, check out the Hennessy XO website

HERE

.




This event is on till the 25th of September, but I hear it's been sold out. However, if you feel compelled to attend, perhaps you can contact Adeline Ong of Milk PR at 603-20948915 to see if they still have tickets available.

A special thanks to Milk PR (and the CEO, Wei, for being such a gracious host), and

A Whiff of Lemongrass

for the invite. It was truly an honor.
Posted: 21 Sep 2010 07:39 PM PDT
Dragon dance at Sibu Lantern Festival
Posted: 21 Sep 2010 07:07 PM PDT
From Dragon dance at lantern festival Received an sms from Steve Ling, my president ( Sibu Photographic Society ) inviting me to go to take pics of a dragon dance. His words are law in my book so dutifully I went From Dragon dance at lantern festival Benghui was supposed to be with them but for certain [...]