---
World Cosplay Summit 2010 Parade
Posted: 06 Aug 2010 07:00 AM PDT
Cosplay parade at the 2010 World Cosplay Summit in Nagoya, Japan…
Video via Hakuto0505@Youtube. Heaven for cosplay fans lol.
World Cosplay Summit 2010 Parade from YeinJee's Asian Blog
This posting includes an audio/video/photo media file: Download Now
Posted: 06 Aug 2010 06:43 AM PDT
For those who follow my blog and have read the previous post about a blogger, this next news is to inform you that someone has reported about him and the case is now out of proportion and his career is at stake. He will be investigated soon and during this time of difficulty, I hope all of you out there to pray that he will be fine and back to blogsphere soon.
Housing price drop stress tests.......proactive risk management or false comfort?
Posted: 06 Aug 2010 05:19 AM PDT
In less than 48 hours of China regulators instruction to banks to conduct stress tests assessing the impact of home prices dropping 50-60% in the worst case scenario, Taiwan follows suits but with less stringent test scenarios. Are these proactive risk management or breding more hubris or over-confidence thinking everything is/will be okay?
I am not an expert in these area but as an investor, I certainly need to think about this issue so that I will not be caught with my pants down. After following the financial crisis stories for a while, I think there were a few thinking out there trying to explain why we had 2008 financial crisis.
1. Slow reaction of Fed to raise interest rate creating excessive liquidity finding its way into housing bubble.
2. Over-saving Asian countries are funding over-consuming American because they have no place to recycle their money. This self-reinforcing loop created the global imbalances.
3. Market knows best will sort out all the problems by itself. Government should stay out of the market. Long lives MARKET FUNDAMENTALISM!
4. Like all bubbles, the party has to come to an end. When natural cleansing process set in to correct all excesses - house prices began to collapse.
5. Complex and lack of monitoring of complex financial derivatives finding it difficult to value its securities that were rarely traded. Lack of price discovery mechanism triggered fire sale that keep bringing down the value to, almost ZERO???.
6. Over-leveraged and under-capitalized banks just could not withstand shocks when these proverbial stuffs hitting the fan.
7. The global financial markets coupling much more stronger than we thought it was -- de-coupled.
Back to the issue of China and Taiwan's stress tests. I am sure with them staffed with 100 of PHDs, they will be able to keep the mechanism in place to fight the property bubbles that at its infancy. Chances of their conclusion will be okay at this point of price level.
However, what they must recognize is this, price is not static but dynamic. It could go up another 1,000% before they collapse(just an over-exaggeration here). The prescription will certainly has to be modified. The amount of capital adequacy needed by banks could be very different.
What if the obvious housing bubble was not the problem. What if bubbles find its way into some other asset classes? What if Sovereign Funds chasing after few other classes creating other bubbles? What if developed countries continue to drop money from helicopters? Well, they should be thinking of black swans --- thinking things are less obvious and unthinkable.
They must go back to the root of the problem - fight that damn liquidity. My bet is they are afraid to tighten it too quickly fearing choking the recovery process. There is no way they can time it right, regulators have been wrong as frequent as weather forecaster's' call. Did I raise the correct big picture questions? Well stop worry things that I can't control.
As an investor, I should remember this day and night. Be fearful when others are greedy, be greedy when others are fearful. At some point of time, I'll keep my money under the mattress. But at this point of time, people have not been too greedy yet.
(Bloomberg)Taiwan regulators asked lenders to conduct stress tests to gauge the impact of a 25 percent drop in home prices amid concern speculators have driven the market too high, said Johnson Chung, head of mortgages at Ta Chong Bank Co.

"The regulator is doing the stress test because the government is concerned about banks' exposure to the property market," Chung said in a telephone interview today. He said officials are also concerned that "hot money" may create a bubble in asset prices.

China's stress tests
China's stress tests of banks will assess the risk that a possible slump in property prices may strain developers' finances and cause homebuyers to default, a person with knowledge of the matter said this week.

The banking regulator told lenders to include worst-case scenarios of prices dropping 50 percent to 60 percent in cities where they have risen excessively, the person said, declining to be identified because the regulator's requirement hasn't been publicly announced. Previous stress tests carried out in this year assumed home-price declines of as much as 30 percent.
http://www.bloomberg.com/news/2010-08-06/taiwan-bank-stress-tests-gauge-risk-from-25-home-price-drop-banker-says.html
Contest McDonalds GCB Grand Prize RM10,000 : Silampuneon Join Contest McDonalds Untuk Enjoy Dan Menang Grand Prize ! Malu Belakang Kira, Janji Enjoy !
Posted: 06 Aug 2010 03:34 AM PDT
What your G Contest ... G string ke G Spot ye?
Okay sila gelak secara berkenduri sekarang juga. Gelak sekarang, aku cakap sekarang !! Hahaha...aku dah gelak sakan dulu dari korang bila project kedua aku ni selesai dibuat semalam. Gelak laaaaaa.
Jom join contest kat sini :
Facebook McDonalds
Tensiion tau tak, malu tau tak. Maluuu tapi takpelah. Itu lah yang dinamakan dengan melibatkan diri dengan aktiviti berfaedah di waktu lapang kan ? Daripada aku pergi clubbing ke, hisap rokok ke, melepak habiskan duit shopping jacket lawa lawa ke...baik aku
join contest McDonalds Grilled Chicken Burger
ni... ;)
Alkisahnya, memilih slogan yang begitu lama dan leceh sekali...tapi aku harap korang boleh faham maksud slogan kami yang berbunyi : G is for Gormandize ! Because as you eat more, flaming with devour, you will adore and the next thing you do , you'll be singing on the dance floor ! 
Ala dalam melayu nya, G untuk makan dengan lebih banyak, bila korang makan banyak banyak dengan lahapnya, korang akan jatuh cinta dan menyanyi di lantai dansa ! Cam poyo kan...arghh aku tak tau lagi mana yang kretif sebab aku bukan kretif pon ! (siyesly ok)
Siap ade lagu khas untuk
Grilled Chicken Burger McDonalds
! Ahhh gelak laaa ! P/s : Video dibuat tanpa sebarang make up hahaha. Aku berpeluh peluh kot dengan spotlight ape bagai !
Haaa part ni korang mesti nak gelak kan ? Gelak laaa weh...dah habis gelak nanti jangan lupa bagi sokongan padu korang untuk aku ok...nak bertanding dengan beribu lemon orang bukan mudah kan ? Jadi aku memang perlukan bantuan saat saat genting ni. 
Lagi 4 hari je korang boleh vote aku...issshkk..macam susah je kan..aku tak sure sempat ke tak, tapi belasah je laaa. Chow !
http://silampuneon.blogspot.com/feeds/posts/default?alt=rss
Celebrate Malaysia Day with MASIF 2010
Posted: 04 Aug 2010 04:23 AM PDT
Previously, Malaysia Day had always passed the federation by, without commemoration: it was a celebration exclusive to faraway Borneo. Last year, Prime Minister Datuk Seri Najib Razak finally did the right thing and announced that 16 September would be, henceforth, a national holiday. So how are we dealing with this new thing?
Enter the Music, Art and Style International Festival (MASiF) 2010. A "unique event specially crafted to commemorate Malaysia Day", the festival will feature five days -- between 15 and 19 September, in and around Pavilion KL -- of music, visual art, and fashion.
The festival schedule includes outdoor performances, street fashion shows, and graffiti work at and around Pavilion's Bukit Bintang entrance. Stuff will be happening inside, as well.
Expect music via Anuar Zain, Zainal Abidin, Jaclyn Victor, Reshmonu, Azlan & The Typewriter, and the Aseana Percussion Unit (APU) -- among others. Also watch out for songstresses Zsa Zsa Padilla (from the Philippines), Mint (of Thailand), and Datuk Khadijah Ibrahim (who also doubles as MASiF 2010's chairperson).
For fashion, through MASiF's partner Bumiputera Designers Association (BDA), we'll get to feast our eyes on the work of Datuk Tom Abang Saufi, Hatta Dolmat, Rahman Sarif, Aaron G von Jolly, and more. As for confirmed artists, how about impressionist Harris Ribut, naive artist Ismail Baba, Zaim Durulaman, and Khoo Khay Tat? Looks to be a big, sumptuous bash.
The festival's launch this week featured International Trade and Industry deputy minister Datuk Mukhriz Mahathir at the podium. "We're not so good at promoting ourselves; we Asians have had problems accepting compliments," Mukhriz said. "This festival is a good solid strategy to demonstrate that we meet truly international standards."
Amid all this talk about transnational aspirations, though -- and despite gratuitous use of the "1Malaysia" phrase -- it's strange that nothing in the planned festival indicates the most vital conceptual component of Malaysia Day -- that it is a symbol of unity between both sides of the South China Sea. MASiF doesn't extend -- whether literally, or in terms of subject matter -- beyond the Klang Valley, much less to Sabah and Sarawak.
Hopefully we'll be proven wrong. We'll be watching this one. For more information, visit the MASiF 2010 website.
Posted: 06 Aug 2010 03:22 AM PDT
At the back of my mind, I keep remembering the words "Let go, you must let go. You shouldn't have attachment, you must learn to let go." So today, I finally decided to let go of the state-of-the-art computer junk that I had been accumulating all these years. I cleared the old storeroom of the old, useless computer components parts including this set of memory cards: 512MB SDRAM, 256MB SDRAM, 64MB SDRAM and yes, even 32MB SDRAM. Anyone wants them before I finally chuck them away?
Not forgetting too two old CD-ROM drives and two so-called "high speed" dial-up modems. I would like to say "out, damn spots, out"but I've got to be very thankful to the dial-up modems. They practically saved my life when I moved to Bukit Mertajam from Seberang Jaya.
What happened, you may ask? More than five years ago when I was still staying in Seberang Jaya, I was already using TMNet's Streamyx service. But when we moved to Bukit Mertajam, I had a rude shock. There was no Streamyx service in my neighbourhood. So I had to fall back on dial-up while I kept pestering TMNet about their Steamyx.
This in itself is another story. The first time I contacted TMNet, they claimed that their equipment could not support Streamyx as the telephone lines in my neighbourhood were all running on new fibre-optic lines. I told them off. Nonsense, I said, don't tell me that a modern telecommunication company like TMNet just haven't got the technology for that? Fibre-optic lines are not something new; they have been around for ages. And why would TMNet want to lay fibre-optic lines when they cannot provide even their own simple Streamyx services?
Then they came clean. It's just that they haven't enough equipment at their exchange, they said. Not enough ports. So when are you bringing in the extra equipment, I asked. Soon, soon, that was all they were prepared to say. Give me a date, I told them. Give them a month, they said. Okay, I told them, I'll wait for a month; then they'll be hearing from me
The month came and went. Still no Streamyx service in my neighbourhood. Fuming mad, I tell you. Finally, I met one TMNet senior executive at a computer fair in Penang. Ho, just the right opportunity to complain to Someone who could do more than just give excuses. He listened to me and then gave an assurance that he'd be looking into the complaint. Sure enough, within a week, I had TMNet contact me and say that I could have my Streamyx service connected immediately. 
ca-pub-5430283382112812
It Depends On The Way - Ref: Edward L
Posted: 06 Aug 2010 03:13 AM PDT
IT DEPENDS ON THE WAY
It's the way you carry your load that breaks you down
It's the way you struggle that often makes you drown
It's the way you show sorrows that makes you frown
It's the way you laugh that makes you a happy clown
(C) Samuel Goh Kim Eng - 060810
http://MotivationInMotion.blogspot.com
Fri. 6th Aug. 2010.
Kindly share this blog with all others. Thanks. Samuel Goh Kim Eng http://MotivationInMotion.blogspot.com
You can make me as rich as a billionaire. But I still wont want
Posted: 06 Aug 2010 03:02 AM PDT
Gempar ! Bahaya Makan Biskut Jenama Want Want Buatan China Ada Bakteria Koliform Dan E.Coli !
Posted: 06 Aug 2010 02:12 AM PDT
Anda diingatkan supaya berhenti makan biskut yang berbahaya ini buat sementara waktu.  Korang suka makan biskut Want Want ? Adakah biskut ini menjadi kegemaran korang semua juga ? Jeng Jeng Jeng...anda mungkin perlu berhenti makan biskot ini buat sementara waktu...walaupun ianya sodap dimakan ! Krup krap kruupp.
Biskut Want Want dikhuatiri ada bakteria koliform ? Ini adalah salah satu biskut kegemaran Shazrina Azman dan Lisa Surihani okay!
Anda suka makan biskut Want Want ? Yummyyyy tapi berbahaya ! 
Petaling Jaya 5 Ogos – Kementerian Kesihatan mula mengambil sampel daripada 334,460 kotak biskut jenama Want Want dari China yang berada di pasaran, hari ini bagi menjalani pemeriksaan mengesan bakteria koliform dan E. coli. Ini berikutan kes pencemaran bakteria koliform dalam biskut itu dikesan di Wilayah Shandong.
Menteri Kesihatan, Datuk Seri Liow Tiong Lai berkata, sebagai langkah berjaga-jaga, biskut berkenaan kini diletakkan di bawah tahap lima Sistem Maklumat Keselamatan Makanan Malaysia (FoSIM). "Hanya sampel biskut yang lulus pemeriksaan sahaja akan dibenar untuk dipasarkan di negara ini bagi menjamin keselamatan pengguna", katanya.
Bakteria koliform . Ciri - ciri kewujudan bakteria ini ialah :
Sumber
Pesakit mengalami demam
Kejang perut
Cirit-birit yang ada kalanya bercampur darah
Jangkitan kuman pada usus dan uterus.
Bakteria E.coli . Ciri - ciri kewujudan bakteria ini ialah :
Sumber
Kekejangan perut
Muntah
Dehidrasi 
Cirit-birit melarat hingga menyebabkan pendarahan usus
 Gambar bakteria koliform
 Gambar bakteria E.coli
P/s : Cikgu neon pun suka gak makan biskut beras cap china ni. Tapi tak pernah beli laaa. Kalau kawan offer tu, saye belasah aje. Waka waka eyh eyh. Tapi sodap la biskut ni, jangan la ade bakteria plak. Hihiii...jangan makan wey.Chow !
http://silampuneon.blogspot.com/feeds/posts/default?alt=rss
The all new Honda Freed – a Yummy Mummy's review
Posted: 06 Aug 2010 01:18 AM PDT
I test drive Honda's new compact MPV, Freed with 32 other Advertlets bloggers about a week ago. It was great fun!
A day out in the all new Freed was held at SOULed OUT where we got together with the internationally prominent auto blogger Paul Tan. We were grouped in fours and fives each in a Freed, and drove in a convoy from Hartamas to Putrajaya.  That was no problem at all because Freed can fit up to 7 people!
I was in a sleek gray Freed with the oh so fabulous Hafiz Cutecarry Mustapha, Ridzuan Richie, Hafiz and ops sorry dear I forgot your name!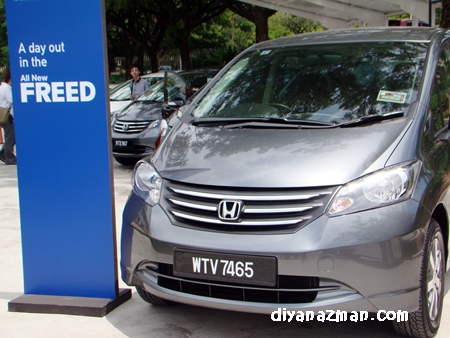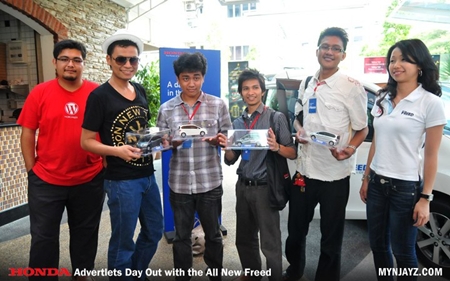 That guy in red is Paul Tan! I was supposed to receive a gift too but I went back early! boohoo! pics by mynjayz.com
I have to say this new MPV is just like any other Honda – is packed with style! I love it. It's really sleek and doesn't look bulky but the enterior is super spacious!
Being a Yummy Mummy I feel like this car is a complete must any family with 3 or more members.
Performance wise, the Freed carries a powerful 1.5L 118PS i-VTEC engine with Shift Hold Control and Grade Logic Control for an exhilarating driving performance. I have no problem driving it, after all it is no sports car and made exactly as a family transporting MPV, not for speeding! But one thing I really admire about Freed is its small turning radius!
Dudeee.. I can make a complete u-turn with only one hand on the wheel! This is so awesome! I can put on my mascara with one hand and drive with another! How cool is that?? Eh.. I mean I wanna change the gear with one and drive with another! Takkanlaaa I nak pakai mascara masa drive… kan bahaya tu.. hehehe *ops*
After all safety has always been my number one concern in contemplating the cars of my choice after how diva it makes me look while driving. Freed has dual airbag – a must!! If your husband wants to get a car with one airbag only! Say no! He is looking forward for wife number two, I am telling ya!! It is a conspiracy! Imagine in case of accident, your driving husband will saved by the airbag dan KO MAMPUS SORANG-SORANG NYAHHH!! Apa ertinya ini??? Amboihh! Hmmph!
In view of Miki, Freed has a great feature called Automatic Sliding Doors with Anti-Pinch which generally means the door won't kepit you! Ok? This is awesome super hyper kiddoes like my lil Miki. Freed's door is also only 410mm from the ground with grip handles to make it easier for kids to get on board.  The doors open to a "walkthrough cabin" that has four "captain chairs" for the first two rows and third row seats that fold up sideways. Captain chairs are great because they are compatible with all baby car seats, so there is no need for you to buy new car seat to suit your new car.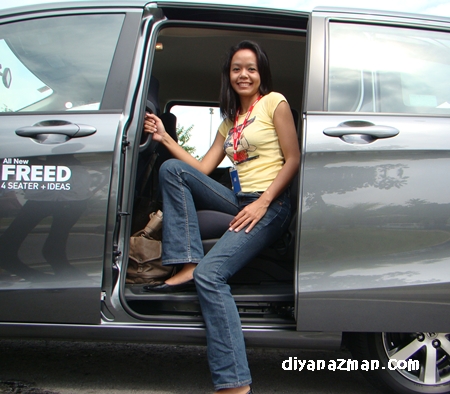 41omm off the ground! sportyyyy!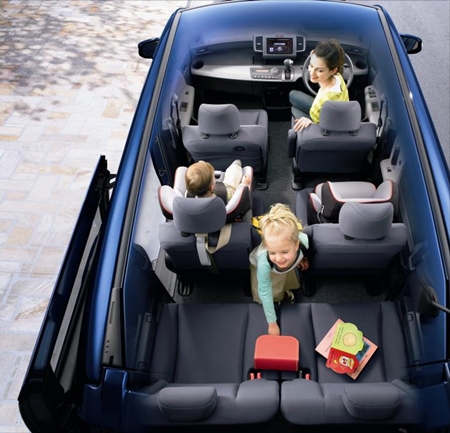 Really spacious!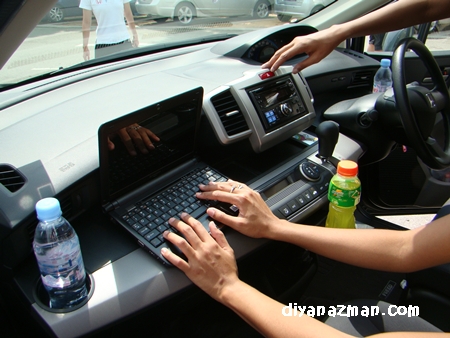 All the space you could ever need! Great for blogging on the go!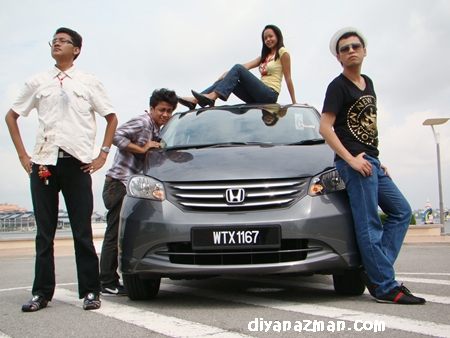 hahaha! I loike this pic!

Among other things that make Freed excellent for a family ride is its huge walkthrough Cabin with a 200mm walkway for easy access; its big cargo capacity and its many compartments for keeping knick-knacks and stuff.
Priced at Rm112,ooo on the road. I'd say Freed is an excellent buy! After all it's a Honda.
Posted: 06 Aug 2010 12:19 AM PDT
Ever since I was a child, I've been known to be not very chatty. And I'm pretty much the same today, except maybe to certain people with whom I can talk with for ages and ages hence, which is not very many.

Anyhoo, my point is, I'm a person of few words. Americans, as I've come to learn, are not.

Oh, can they talk! In fact, one of the first lessons I learnt here about the culture of these peculiar breed of human beings is that even as you walk by a stranger, you greet each other with words, not just a friendly smile.

I think I've picked that up pretty okay, but now I've come to observe something newer: The Art of Small Talk.

As an extension to greeting people with words, my observations show me that people here are very into the whole small talk thing. Or just very chatty. Me, not so.

I. just. have. nothing. to. say.

Conversations with people usually end up with me nodding my head in agreement or understanding of what they're saying, with not much input of my own. It's hard.

Like, when someone goes on and on about camping. I don't have any funny stories to tell or contribute. I don't. Or when someone says how their in-laws are not the nicest of people. Uh huh. Blank.

But I've been working on it. The trick, I think, is to just find a remotely related anecdote to the subject on hand, and run with it. Or pick up on the common topics of the season, like the weather.

And I think I've been doing pretty okay. Like one time in Seattle, while paying for something, the cashier asked how my day was going, and I yapped on about how Tanya and I were enjoying Fremont and somehow I ended up finding out that she was a student at UW (our rivals, heh) and I was in WSU. Cool!

Another time, again as I was waiting in line to pay for something, the slightly aged woman in front of me was telling the cashier about how her family forced her into going rafting. Then when it came to my turn, the cashier made a comment about rafting, and I casually mentioned how I had just been on a trip not too long ago, and the whole 50 seconds it takes to pay for my bread passed in no time.

And then there was the time my housemate and I ended talking about nothing in particular, jumping from one topic to another, for almost an hour. Huh.

Armed with a generic set of topics (the weather, the season, future plans for the upcoming holidays), I think I'm slowly getting there with this small talk business. Quick, test me!

Crazy hot weather - not as bad as hot and humid Malaysia
London weather - I have a few friends in London (get the vaguely related thread?)
Hunting season - I saw a dead bird on my front porch once
Weird in-laws - Uhm...
Camping - I've been camping and only had 20 minutes to pack!

4 out of 5 isn't too bad. Wohoo!

What's funny though, is when Americans call other Americans chatty. Like when my co-worker mentioned being out on some field work with another co-worker who wouldn't stop chatting in the car. "He just kept talking and talking. It was weird."

Right.
Posted: 05 Aug 2010 08:30 AM PDT
The Freeform family (current, and ex-staff 
) went for seafood dinner for Myra and SarChan's birthday this week.
You know what?
I was looking through my old posts and found we went there a year ago for the same reason as well.


Talk about creatures of habit!
Was talking to JiaWei who told me she'd just left a couple of months back,
and she was happily babbling like a brook about some freelance project she's landed herself after quitting.
I went, "Oh good for you! Me, hmm, wondering what to do with my life…"
JW: Oh! And i also just started a jewelry line!
Me: …Thanks Jia Wei, that just makes me feel SO much better…
Tengok muka DidiBuli
MingDaBomb – always camera-ready.
ClaudiaOnCrack – always distracted by something in the air.
The birthday song… was the worst rendition of it i've EVER heard.
Everyone was intentionally out of tune and beat with each other,
shrieking, squealing, howling, it was but anything that could be considered as singing.
Myra seemed to enjoy it.
SarChan… was hiding behind her hands haha!
Posted: 05 Aug 2010 11:32 PM PDT
We interrupt your daily mundaneness to bring you yet another mommy yay-ness post.
PAUL CAN NOW SIT ON HIS OWN!!!
Happy!
This posting includes an audio/video/photo media file: Download Now
Posted: 05 Aug 2010 11:17 PM PDT
number one:
this is tough. but i don't know. i never felt this miserable. i could just cry, yeah i am, anyways. but what good does it do. i don't know. i thought i prayed for something good. for everyone around me. but what i get is too unbearable. oh ok the tougher the journey is, the more i will appreciate the end result. fine. this could be a sign that i WILL actually achieve The Two Things i wanted so bad.
number two:
i'm facing rough times here you know that. for heaven's sake spare those cynics on me. for heaven's sake. you know i don't just sit there.
number three:
how does it feel to REALLY, REALLY hate someone?
number four:
good to know that I DO have my soft spot? yeah that's because i am human. stop arguing about my soft spots already, i have loads of them. and what is wrong with that. after all the tough beings, you need soft spot to balance your life.
p.s.:   if crying solves it all, i will cry day and night.
No affidavits filed by Saiful and Farah, no medical notes for Anwar!
Posted: 05 Aug 2010 10:50 PM PDT
Defence wants Saiful, DPP to take stand
The Sodomy II trial took an unexpected twist today with the defence planning to put DPP Farah Azlina Latif and sodomy complainant Mohd Saiful Bukhari Azlan on the witness stand over their alleged intimate relationship.

On Monday,
lead defence counsel Karpal Singh,
had challenged both Saiful and Farah to file an affidavit to respond to the allegations of the alleged affair and since there was none, what had been asserted by Anwar is thus the truth.
 
Even though the Attorney-General should have instructed Farah and Saiful to submit their respective affidavit,
there is no affidavit by both of them.
Meanwhile,
Anwar loses appeal to get medical notes -
UPDATED 12.15PM
Justice Zaleha Zahari, who led a three-member panel, said after careful deliberation they agreed with the ruling made in the course of the trial.
Katy Perry - Not Like The Movies Lyrics
Posted: 05 Aug 2010 09:48 PM PDT
Katy Perry - Not Like The Movies Lyrics
He put it on me I put it on
Like there was nothing wrong
It didn't fit
It wasn't right
Wasn't just the size
They say you know
When you know
I don't know
I didn't feel
The fairytale feeling no
Am I a stupid girl
For even dreaming that I could
If it's not like the movies
That's how it should be yeah
When he's the one
I'll come undone
And my world will stop spinning
And that's just the beginning yeah
Snow white said when I was young
"One day my prince will come"
So I wait for that date
They say its hard to meet your match
Find my better half
So we make perfect shapes
If stars don't align
If it doesn't stop time
If you cant see the sign
Wait for it
One hundred percent
With every penny spent
He'll be the one that
Finishes your sentences
If it's not like the movies
Thats how it should be
When he's the one
He'll come undone
And my world will stop spinning
And thats just the beginning
'Cause I know you're out there
And your your love came for me
It's a crazy idea that you were made
Perfectly for me you'll see
Just like the movies
That's how it will be
Cinematic and dramatic with the perfect ending
It's not like the movies
But that's how it will be
When he's the one
You'll come undone
And your world will stop spinning
And it's just the beginning




Posted: 05 Aug 2010 08:51 PM PDT
Posted: 05 Aug 2010 09:55 PM PDT
To silence my whiny brother, I agreed to go shopping with him at Oxford Street. It was the summer sale, and everything was at 70% off! He ended up doing all the shopping, while I waited on the sofa, along with the husbands and boyfriends.

Come lunchtime, we went to Pizza Hut for their lunchtime buffet. I don't think they can have pizza buffets Malaysia -- greedy people like me might bankrupt the restaurant. =P


For £6.99, you get unlimited pizza, pasta and salad.

Soft drinks are £1.98 each, and yes, they are refillable. We probably ate around 10 slices of pizza each.

*burp*
Continued shopping for another hour, before joining his friends for a round of drinks at a nearby pub. Why don't we have Bulmers in KL?! It's so damn good.
Then I went hunting for rif's Man United jersey at Sports Direct, but it wasn't available in store yet

(I managed to buy it a few days later)

.
I was so tempted to buy him an Arsenal or Chelsea jersey just to piss the hell out of him, but I decided to be a good girl.
Come dinnertime, we went to this kebab place called HALAL at Bayswater. It's an odd name to call the shop, and I noticed a lot of Malaysians eating there. Got no better place to eat meh? My lamb shawerma was nothing to shout about. And the chips were greasy and overfried.
My brother's chicken leg with rice was edible, but hardly memorable. The pickled chillies tasted odd. I had a bite, and didn't finish the rest.
Went to Bayswater Pub just across the street for another round of cider.

And got kicked out of the pub.

Because they close at 11pm

*roll eyes*

. Then the gang wanted to go to Gala Casino to play a few rounds of roulette and black jack.


But I would much rather eat a roulade than watch them play. Waited for them on the couch, and helped myself to some free flow of coffee and cookies. Until I dozed off.
Bro bought me a kebab from the kebab shop next door because he felt bad that I had to wait. That was good kebab. Much much better than the sub par dinner I had at HALAL.
Reached our hotel at 2am and went straight to sleep. That was Day 2...stay tuned for Day 3!
Ali Rustam to teens: "Want sex? Get married! I'll help!"; China to build 1400-pax buses; World of Warcraft instates fantasy sex police!
Posted: 05 Aug 2010 09:11 PM PDT
Hey, it's Friday! It snuck up on us!
(Photo from Geekosystem)
A new party hits KL: Craft Party
Posted: 05 Aug 2010 09:00 PM PDT
By now you would have probably heard of a different kind of party to hit KL: Craft Party. "It all started about a little more than a month ago when I read about Etsy's Craft Party," says Murni Roslim of the famed Mimpi Murni blogshop. The Etsy Craft Party, for those who aren't familiar with it, is a global initiative to get people to make art together. Noticing that it has never been done in KL before, Murni asked around if it would be a good idea to host a Craft Party here. After receiving 30 positive replies within an hour, Murni took it into her hands to organise the first local Craft Party in July.  
Taking place at Wondermilk Shop & Café in Damansara Utama, about 20 participants showed up for a morning of crafting. Armed with cupcakes, drinks, a range of craft materials (they were required to pay a registration fee of RM30) and Murni's guidance, the participants worked on tea light candleholders using the decoupage technique - a method of decorating an object by gluing paper cutouts onto it. To keep the party exciting, Murni also included additional activities, where the winners were handsomely awarded with a discount off the next Mimpi Murni purchase.
Following the huge success of the first party, Murni plans to organise one every two months with the help of other artisans. While keen individuals will need to pay a registration fee to take part in Craft Party, Murni ensures that the fee will be kept low - just enough to cover the cost of the craft materials, food and drinks. "What I really want is to encourage the local community to try out new crafts, to be more creative and open to new ideas."
Head over to handmadeKL.blogspot.com for updates on the next Craft Party.