---
Posted: 04 Mar 2010 06:34 AM PST
When a guy, MF, called me up during the CNY break, asking if we could provide a speaker for a talk on HIV/AIDS they plan to organise at their college, I told him it shouldn't be a problem as long as he didn't give us short notice. I made it clear that we are all volunteers, we have our own jobs, and as such it wouldn't be easy to meet last minute requests.
At first MF mentioned 5th March, but with an option to having it on another date more convenient for us. I asked if it could be done in the afternoon, as it would be easier for me, but he insisted it would be easier to get more students to attend in the morning. So we finally agreed to have it on the morning of 9th March.
But all those arrangements were by phone calls; and so I told him to at least send us an official letter either by fax or by email, for our records. I gave him both Buddies' fax number and email address.
I waited but the letter never came. Then last week MF called, just to confirm with me that the talk is on, but he had been busy so he asked if it's okay for him to send me the letter this week. He didn't ask for anything else, he just asked me if I am still okay for the 9th March talk.
Monday morning, after I came back from Kuching, I received a text message from MF (whom I believe is a student of the college), saying that the CEO at his college requires the biodata of the speaker. I was rather busy in the office then, and thinking that since the talk is next week, there's ample time for me to write my biodata and email to MF later.
But later in the afternoon, this guy called me up, saying that his CEO wanted to see my biodata on that very day and asked I could give my biodata there and then! I understand the CEO's concern – surely he didn't want to have any Tom, Dick or Harry to give the talk on such a serious topic to the students in the college. But really, MF should have asked me for my biodata earlier and not give me last minute notice. What… he thinks I have nothing better to do, is it? He's so busy he couldn't send me the letter I requested, yet he thinks I have all the time in the world to prepare my biodata there and then?
But I figured he must have already been scolded by his CEO for not getting all the required info ready, I just typed a very brief biodata of myself and emailed it using my personal email address. The first email bounced, so I asked MF if he could give me another email address. He did, and I think this time he gave his personal email address.
The next morning, I received another SMS from MF – saying that his CEO requires a more detailed biodata, like a file attachment. I told MF that I'd be busy the whole day, and so if he insisted on a more detailed biodata, I'd only give it to him the next day. Actually I could get my biodata done in the afternoon, but I was getting rather pissed off. I mean… he's the one who's not properly organised; why is it that I, as the invited speaker, who's getting pushed?
A few minutes later, I received a call from the college, this time not from MF, but from the student affairs officer. This officer was more professional in his approach. Anyway, based on the short biodata I gave earlier, and looking at my name, 2 of the officers at the college recognised the name. They were personal friends of my business partner and one of them even joined us during our Kuching trip. The moment the lady saw my name, she exclaimed, "Eh, I baru gi Sarawak dengan dia!"
I guess after that they didn't worry too much about whether I was "qualified" to give the talk. The student affairs officer just asked what I needed them to prepare for my presentation. So I just told him that my presentation would be in powerpoint format and so they'd need to prepare the computer, projector etc. I will just bring along my external hard drive where all my files are kept. I took the opportunity to tell him that I was still waiting for the official letter from them inviting us for the talk. "Laaa… takde pulak dia bagitau saya pasal surat. Nanti saya tanya dia balik!" said the officer, commenting about MF.
This morning when I downloaded my emails, one email caught my attention. With an email coming from a "hai sayang" as the sender's name, when all other emails had proper names as sender, naturally I thought it was one of those spam emails. I almost deleted the email without opening it, but suddenly I noticed the subject line of that very email - "Jemputan Ceramah AIDS". Mak aihh! It was MF, attaching the official letter that I was waiting for!
Hai sayang??!! I bet he uses that name to communicate with his girlfriend and forgot to change the sender's name when he wanted to send the official letter to me. I purposely replied the email just to say, "Noted, TQ" just so that he'd notice that he just "hai sayang"-ed me. Muahaha!
I betcha he'd be quite embarrassed to meet me next week!
Posted: 04 Mar 2010 05:53 AM PST
Posted: 04 Mar 2010 05:11 AM PST
Picture of Alice in Wonderland
at
Listal
Anticipating..
Cafe Barbera, Bangsar Park (revisit)
Posted: 04 Mar 2010 02:58 AM PST
Cafe Barbera left a good impression on me during my first visit, and it is now my favourite place to have coffee. Service was friendly. The staff always had a smile on their face.
In less than a week, I noticed some improvement in their coffee and food.
The cappuccino shakerato

(RM9.50)

was more of a pretty drink

but didn't deliver the coffee kick I was looking for. I prefer my coffee to be slightly bitter.

Roma

(RM10.50)

was a lot sweeter and tasted more like a chocolate drink

to me. I think I'll stick to the Cappuccino Italiano

(RM8.50)

from now on. It was better prepared

(smoother)

this time around, with a simple coffee art finish.
Espresso Freddo

(RM9.50)

was thick, dark and sweet

. It could have been less sweet, but on a whole, I liked it. The butter croissant

(RM6.50)

was simple, comfort food that went well with my coffee(s).
As usual, the greedy girl

(Shum)

had her tomato & cheese pizza

(RM18)

, and I shamelessly nicked two slices from her. Since H was there with us, we ordered a mushroom & cheese pizza

(RM20)

as well. This was tastier than the tomato & cheese pizza.

The addition of pesto on top of the pizza was ingenious

; it was nutty, aromatic and complemented the pizza toppings.
Aglio olio spaghetti

(RM20)

was not bad but it was such a small portion. The prawns were firm and succulent, and

the sundried tomatoes gave the pasta a tart and sweet flavour.

I liked this, but only as a snack.

It was much too small to act as a main course.
I spied more cakes at the display counter, and decided to try the Tiramisu Cake

(RM13)

. This was a homemade version, there for a trial run. Cafe Barbera should replace their tiramisu with this. Light, creamy and with a hint of coffee, it was more of a

"pick-me-up"

compared to their house version.
The peanut butter chocolate cake

(RM13)

didn't fare as well. It was too dry and dense.

The creamy peanut butter filling wasn't much of a saving grace.

It was however, a good attempt in widening their cake selection.
My experiences at Cafe Barbera were pleasant, so far. The coffees are one of the better ones around

(just stick to the basics)

and it's so nearby my place!
*Previous visit HERE
Cafe Barbera
18 Lorong Maarof
Bangsar Park,
59000, Kuala Lumpur
03 2287 3628
Opens daily from 9am to 11pm
GPS Coordinates: N 3 07.732 E 101 40.495
3 great Bak Kut Teh outlets + a short story about its origins!
Posted: 04 Mar 2010 02:20 AM PST
The favourite breakfast dish in Klang Valley among the Chinese people is undoubtedly Bak Kut Teh. However, this delicious and savoury meal did not originate in Klang, as it is popularly believed. There are many versions of the story, but this seems to be the best explanation. Apparently, bak kut teh was brought to Klang by a man who learned the recipe from a friend in Quanzhou, China.
The dish, consisting of pork cooked in a soup boiled with herbs and pork bone, was a cheap dish back in the day when port coolies and labourers relied on it to boost their strength. Now, bak kut teh can cost up to RM10 per person, depending on where you go (and how famous the shop is).
Initially, there were two different versions of the dish, Hokkien and Teochew. The Hokkien one is particularly popular in Klang, and many argue that this is the original one that was served. The broth is thicker and slightly oilier than the Teochew version, which is clear and light, but equally tasty. The Teochew one is also more commonly served in a claypot, while the original Hokkien one served in individual porcelain bowls with only a chunk of meat and some broth.
Claypot bak kut teh has more than just pork in it; there are button mushrooms, Black Chinese mushrooms, tau foo pok, pig organs like intestines and stomach, topped with coriander, lettuce leaves and yau char kwai.
When the Nipah virus broke out in 1999, it affected the pigs in Malaysia and the farmers (and of course, bak kut teh shops) were badly hit. So, the bak kut teh chefs came up with chik kut teh, which used chicken instead of pork as a replacement. Diehard fans were severely disappointed though; they complained that it lacked the essential aroma of the pork bone.  
If you didn't know, there's even seafood bak kut teh, which I've tried. Definitely odd tasting, because the seafood gives off a fishy smell; while the strong herbal broth masks the delicate fish flavour of the fish.
A popular variant of bak kut teh is cooked dry, with lots of black, thick soya sauce and dried chilli. If you like it spicy, then this is right for you. However, since it is a dry dish, you won't have the gravy to drown your rice in.
There is a place in Teluk Pulai, Klang, which serves very good bak kut teh. The shop is called Klang Lek Bak Kut Teh, and it opens daily from 7.30am to 9pm throughout the day. If you've never tried the individual bowl version, do so instead of ordering a claypot. Request for lean meat with a little fat, and if you're lucky, they'll serve you meat so tender, the texture is similar to that of chicken drumstick.
In Subang, there is a great place for Teochew bak kut teh in SS17, called Chao Zhou, which also serves up peppery hot pig stomach soup.
For dry bak kut teh, the restaurant in Puchong called Yap Chuan Bak Kut Teh is a must-try. Celebrities like Amber Chia have reportedly eaten there, and the walls are filled with newspaper cuttings of its reviews.
Share with us your favourite bak kut teh spot!
(Images courtesy of www.vkeong.blogspot.com)
1Malaysia allows desecration: NFA against Umno-owned Utusan Al-Islam
Posted: 04 Mar 2010 02:19 AM PST
Published: Thursday March 4, 2010 MYT 4:28:00 PM
Updated: Thursday March 4, 2010 MYT 4:31:45 PM
KUALA LUMPUR: The Archbishop of Kuala Lumpur Tan Sri Murphy Pakiam has expressed his sadness over the Attorney-General's failure to act against two magazine journalists who had allegedly desecrated a holy Catholic ritual last year and the fact that the journalists have yet to apologised.
He said the Catholic Church would not pursue legal action against the Al-Islam magazine and its reporters if it was offered a public apology.
The two journalists had posed as Christians and took part in a Catholic Mass to probe allegations that Muslims were being converted. They admitted to receiving Holy Communion and actually spitting the wafer out, an act Catholics consider desecration.
The Christian Federation of Malaysia executive committee chairman Rev Ng Moon Hing said it was unacceptable to "spy" on worshippers of another religion and that the sacrilegious behaviour had breached standards of common decency.
The MCA said the action of the two Al-Islam journalists were offensive and contrary to the Malaysian culture of peace, harmony and tolerance.
Its MCA NGO Liaison Bureau chairman Datuk Ti Lian Ker called on the Home Minister to act against individuals, institutions or publications that acted in a manner deemed "provocative or sensitive to another religion."
After police reports were lodged against the journalists and the magazine, they were investigated under Section 298A (1) of the Penal Code for causing disharmony, disunity or feelings of enmity, hatred or ill will, or prejudicing the maintenance of harmony or unity, on grounds of religion.
However earlier this week, it was announced that the Attorney-General had decided not to pursue the case because of "public pressure."
More to come
Posted: 04 Mar 2010 01:32 AM PST
Posted: 04 Mar 2010 01:17 AM PST
As well as a large vocabulary, novels give writers a sense of how it is done. They offer templates that can be borrowed and adapted; they teach a writer how to create narrative structures and characters, how to develop tension, write dialogue, and maintain a consistent tone and pitch. Novels also trigger memories from a reader's personal experience, and these give writers ideas for their own stories. Great writers can copy just about anything they read and make it look original: a scene from one book, the description of a room from another, a piece of dialogue, an item of clothing, all of these details can remind writers of events and experiences in their own life, they can trigger a writer's imagination in ways that are distinct from the original, if not unique in the world.
The best advice for writers
restated nicely on The Guardian blog
by Evan Maloney :  READ!
Posted: 04 Mar 2010 12:39 AM PST
It's been two months of being here! While I'm adjusting well to everything, one thing that I have started to miss is having friends with similar interests. The different groups of people I usually get in touch with back home to indulge in different activities.
I think it started first with Bryan calling me one afternoon. I didn't have enough credit on my phone to have a longer conversation, so I told him to text me instead (the cell phone network system here is very odd, I have to pay to receive calls/smses. One thing I don't like very much). 
Some moments later, he sent me a message just to say that he was missing our infamous babi excursions we used to have once a week, a whole group of us deciding on some pork-happy eatery to pig out, literally.
At that moment in time, I didn't really share his sentiment about missing our food outings, and sent him back a text telling him not to think too much about what we could do, but focus instead on the things we can do here which we can't back home!
I may not have been very comforting with my advice, but that came from my current state of mind where everything around me was fascinating.
Then last week, I read somewhere that there was a talk on the Ethics of Eating on campus. The title of the lecture intrigued me, and I mentioned it to a few of my classmates hoping to find a companion in one of them to the talk. No such luck. Having been around my hall mates for some time, I gauged that they wouldn't share the same enthusiasm to attend this talk either.
So I went all alone, recalling that back home, there would be a couple of people who would have been interested to come along with me, like Ben and Ern Teck, since we'd discussed going to similar talks, lectures and events, and attended some together too. Then I started to miss them and wished they were here.
Missing people, I guess that's just unavoidable. It took me a while to find those treasures of friends, those that can share and tolerate my weird interests and indulgences. It's just the same that it will take me a bit more time to really find soulmate friends here. And, I keep reminding myself, it's only been two months!
I have thought about how different it would have been had I decided to go to a uni closer to or the same as my friends. Surely it would have made my life a lot easier when Spring Break came about, as I'd have an assured place to go or we could plan trips together, and I'd have a support system when hints of homesickness kicked in. But then I try to wipe those thoughts out of my head, almost completely. I made the choice to come here to learn to adjust to new surroundings, to be independent and step out of my comfort zone. I need to learn to grow on my own, and I must remember that. Plus, I keep thinking of how Tanya can and has done it all by herself, and that encourages me.
Yesterday I went to a talk on Feminism and Pop Culture, alone again, this time not even thinking of discussing attending it with some classmates cos I didn't want to hear polite excuses. To my surprise, I did meet someone I knew there, which is a promising start to finding a friend to attend such events with in future.
And as for the missing friends part, I've resorted to send random smses to people like Bryan and Ern Teck when things I think they can relate to occur around me or strike my mind. I'd say that's working pretty well.
***
Highlight of the day: It was decided in my theatre group last week that I would be the playwright for our group performance, and I took on the daunting task with much self-doubt. Today we went to meet with our lecturer to guide us along and give us a few pointers, and he suggested a cold reading of the script. Barely through the second page (and before the good parts, IMHO) he stops the actors and compliments me on the script, asking me if I'd had any previous creative writing training. WHATTT. I said no, searching for some background experience to say yes, but had to convince myself that no, I had no training. Then he suggests that I take a playwright course next semester, and again says nice things about my work. WHATT JUST HAPPENED THERE? I couldn't believe it, not until my other group member, who is the director, says it to me as we walk away from class that that is a pretty big compliment. UH YEAHHHH...again...WHAT JUST HAPPENED? It was my reason to smile, as my father would say, like a jackass the whole day. 
Studio C Live: An interview with Sundays Record
Posted: 18 Jan 2010 06:52 PM PST

Sundays Record is comprised of Ben Travis (bass/vocals), David Gretton (guitar/vocals) and Callen Miner (drums/vocals) and they hail from Newcastle, New South Wales in Australia. In anticipation of the Studio C Live finale at KL Live this weekend, we pinned them down to answer some pressing questions!
1. Why the name Sundays Record?
Well, to be truthful, we were only supposed to be together for one gig. We needed a name, so we hit generate on a "random band name generator" and up came "Sundays Record". It's just stuck now.
2. You have been together as a band since 2005, how did you meet?
We met each other at various stages in our schooling lives and just got along really well. We decided to set-up a jam session. We liked it so much we haven't stopped the weekly ritual.
3. Are you planning to record your first album after your EP Broken Not Blinded?
Definitely, we are actually in the process of writing and recording some demo tracks to go on the album. Hopefully it will be ready for release in early 2011.
4. Other than performing in Australia, have you performed around Asia before?
Not as a band but a few years ago, Dave did some acoustic performances at various pubs and clubs in Thailand. He enjoyed it a lot.
5. So far, which has been your favourite performance?
The launch of our debut EP, Broken Not Blinded, was definitely a highlight. We played a big part in the organisation which made it a more fulfilling and satisfying experience for us.
6. Which is more satisfying: performing live or recording in the studio?
Ben: Performing live on stage, there is no greater feeling in the world, except flying...which, I have yet to master.
Dave: I prefer the recording process - being creative in the studio, throwing around ideas and hearing them come together finally as the track.
Cal: Playing live, it's fantastic to hear people sing along to songs we've created.
7. Your musical influences cover a broad spectrum but which bands inspire you the most?
We have a lot of attributes drawn from many different bands; however, we have a great amount of respect for other three-piece bands in particular. We know how tough it is to create a massive sound with only three members, especially live. If you examine our iPods, you'd find Silverchair, The Living End, Dashboard Confessional, John Butler Trio, and John Mayer.
8. And do your lyrics carry a certain theme or message?
There's no main theme or message, but every song tells its own story. A lot of people tend to relate to the songs we write, because they can empathize with the lyrics.
9. What kind of set have you planned for your performance in Malaysia?
A high energy rollercoaster. There'll be dips and turns and bends and drops - we hope Malaysia enjoys the Sundays Record experience.
10. When touring, is there a ritual that any of you must do?
We have only two rituals that we must complete: an acoustic warm-up before the show and every gig ends with a McDonald's drive-thru trip, featuring triple cheeseburgers.
Catch Sundays Record, Moving Units, Pop Shuvit and Twilight Actiongirl live at the Studio C finale this Saturday, March 6 at KL Live, from 7pm onwards. Entry is free. For more information, visit www.mystudioc.com or check out the Studio C page on Facebook.
Posted: 03 Mar 2010 11:28 PM PST
Another video.
This is what happens every single morning when i wake up.
I dunno what she wants. lol.
Video is taken by my tragical CreamCakeCam. Btw i will be reviewing a new camera soon, the Olympus PEN E-PL1. Before i write about it, check out the awesome camera on their website NAO.
This posting includes an audio/video/photo media file: Download Now
Posted: 03 Mar 2010 10:01 PM PST
Anda bagaimana?
Source: http://9gag.com/gag/18973/
Is anyone cares that the recession is over?
Posted: 03 Mar 2010 10:40 PM PST
With a lot of sideways movement lately, there are not many exciting news to comment. So I'm just going comment on some old news, it does not seems to excite anyone when a number of countries already out of recessions(not technically) but certainly turned positive for the last quarter. Malaysia economy grew 4.5% in Q4 '09 and now most analysts are forming a consensus of 4-5% growth for 2010. The bullish camp is aiming for 6%. Since the Bursa has already gone up by almost 50% since it bottomed out about 10 months ago in March '09. It's interesting to note how forward looking the market is sometimes.
(theStar 24-Feb-2010)PUTRAJAYA: The economy grew at a faster pace than expected in the final quarter of 2009 as a combination of government spending, a lower inflation rate and accommodative monetary policy helped boost domestic demand.

Gross domestic product (GDP) expanded 4.5% in the fourth quarter (Q4), the first positive growth after three consecutive quarters of contractions while for the full year, the economy contracted by 1.7%.

The positive news surprised economists, who were expecting an average growth of 3.2% for Q4 as shown in a Bloomberg survey. For 2009, a separate Bloomberg survey showed economists expected a contraction of 2%.

CIMB Investment Bank Bhd economic research head Lee Heng Guie told StarBiz there would be an upwards revision of the GDP figures for 2010 in light of the Q4 data plus Asia's growth prospects.

"We'll be revising the numbers, most likely in the region of 4% to 5% (from 3.5%) for 2010 especially given the expansion in the services and manufacturing sectors," he said.
http://biz.thestar.com.my/news/story.asp?file=/2010/2/25/business/5741357&sec=business
Posted: 04 Mar 2010 01:58 AM PST
Title = song from The Courteeners
Thanks to Kurt of Clash The Disko Kids who sends out albums to dl 

My fave song from them is The Opener,
it's currently my happy driving song.
+ + +
Lotsa random pix below as i do sometimes.
Arabyrd stressing (not really haha) bout Twinkies presents Cat Got Your Tongue this Sunday
She's holding one of the 4x lights from Aurora we're giving away that day too!
It lights up when upright, and goes off when laid down.
Makes a great nightlight for emergencies according to them.
+ + +
Thought i'd blog about where i recycle my paper + plastic + aluminium nowadays
I used to cheat and pass them to TigerJoe
but it's a bit silly to leave so much trash around the place
so i thought i'd better start dropping it off myself!
MaryBerry told me about the recycling centre behind Ikano
It's really convenient as there's a lot of space right next to it to park and ciao
So try to do your bit for Mother Earth ok? 
+ + +
KinkyBlueFairy: Featured Blogger of the Month @ Nuffnang
Read the article *here*
+ + +
AshleyTheMonkey got a new puppy a few weeks ago
(i didn't post the pix up cos was saving it for a random pix post like this one!)
I've known Ash since i was 13,
and she had her first dog with her (who bit me then -_-)
till Spotty had to go to Doggie Heaven last year.
So just recently, she got a new puppy!
When she told me i went to her house straight away
COS IT'S A NEW ADDITION TO THE FAMILY!
MUST SEE!
MUST PAT!
Meet Kobi!
(we just realised a few days ago Roxy's poodle is also called something similar 0_o)
Like a toy right!
I held him in my hands and he just…
fell asleep.
Just like that.
Then i didn't dare to move  -_-
+ + +
Was hanging out at Milcah's place,
and admired her kickass vacuum cleaner.
+ + +
Bought this scarf rack from Ikea to organize my scarves before CNY
And these are just half my scarves  -_-
Think i may get another one.
+ + +
Hanging out at Sid's Bangsar South during CNY
I'm wearing FaiTheMai's wayfarers.
The fellow has 3 in different colours.
Superfemale can die.
RowdyRudy + me wearing the top from Baci i posted about
Rouvin + FaiTheMai
Rouvin was reading out new Chinese animal year horoscopes to entertain us all
Apsahahahah + JessieRicher
+ + +
Went to TL's open house
(i haven't seen him for so long wei. His last big job was producing Amazing Race Asia
)
I had green tea cos i was still so hungover from day before.
You know how it was during CNY – drunk, hungover, drunk, hungover, repeat 328x times
MaryBerry tak tau maintain while eating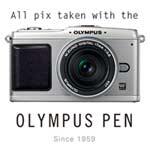 Extra Super Tanker, and Redux all in One
Posted: 03 Mar 2010 09:55 PM PST
Strictly speaking, despite the Yue Sang, this is not a Chinese New Year post. However, the period plus minus chor yutt (1st day of CNY) is like a gravitational magnet, drawing back from the four corners of the earth, people who have either fled the country, in search of greener pastures, (usually in Australia), or people who have been posted to deserts in search of sandier pastures, (such as Abu Dhabi), to our beloved homeland. Sungguh gemilang negeriku, yang ku puja, oh Tanah Malaysia.
So when people come back from far away, we who are here, who usually dont bother to meet up, are compelled to drop our routines and schedules, and convene for the sake of the prodigals who have returned. Suits me fine, as long as I am not the organiser.
When the Culinary Trinity join forces, (Masak Masak, AWhiffoflemongrass ...and previously Precious Pea, but now Paprika), you know it should be a veritable feast. Even the name of the venue is extra super special. EXTRA SUPER TANKER. The original is located in Damansara Kim along that nondescript row of shophouses that in the days of yore, housed a Jin Chwan Seafood wholesaler, and further down, the pioneer Eurodeli, which marked the dawn of the Babi Era...it seemed to have spawned a whole cornucopia of porcine paradises.
But of course, our esteemed guest, used to the Burjs and the ladida swanky places in Melbourne obviously could not deign to be seen with the hoi polloi in Damansara Kim, so thankfully, EST has another new and bright (how else does one describe a chinese restaurant in glowing terms) in Bukit Utama clubhouse.

Those who meet regularly cant be bothered to talk to each other, and each is doing their own thang.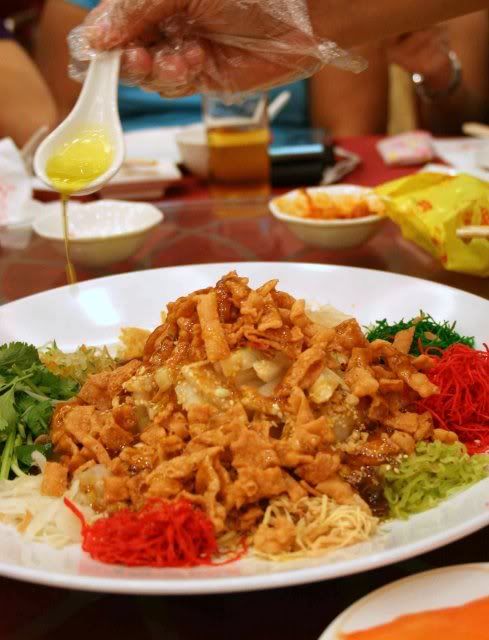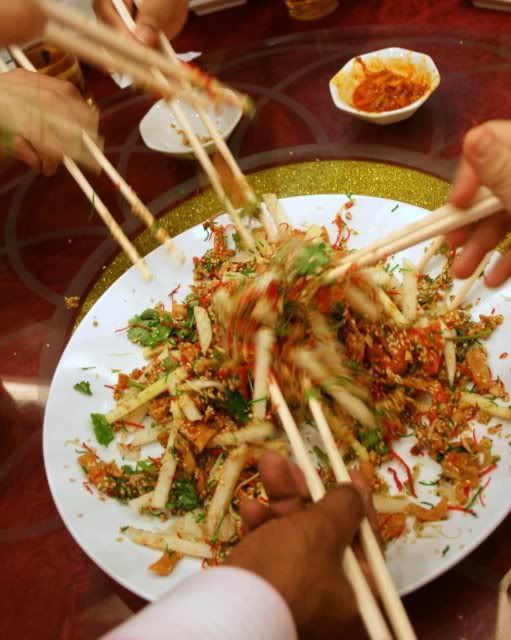 Tossing the salad together. The usual mantras are chanted. Prosperity, Old Horse Sperm God, or Old Horse Sprightly, Good health etc etc. The higher the toss, the messier it gets. Of all those tossing hands, the one with the darkest complexion has actually had the MOST yue sang of the lot. Yup, Bald Eagle by the end of CNY had tossed 15 times. Must have worked up some wrist muscle there.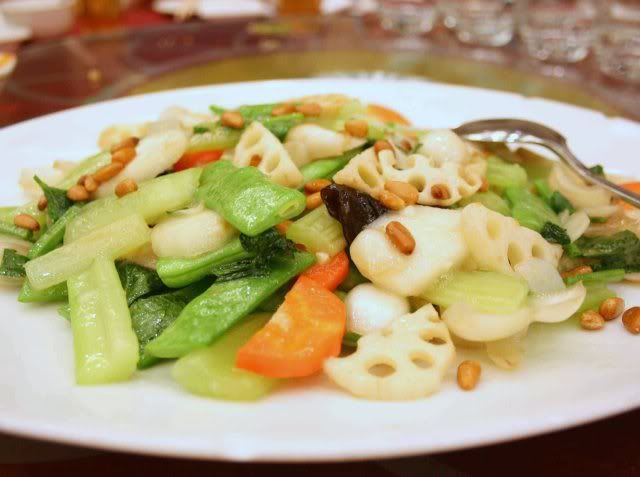 The only dish ordered by the non goddess....vegies ordered by Unkaleong. Lucky for him, it was decent. In fact, very good.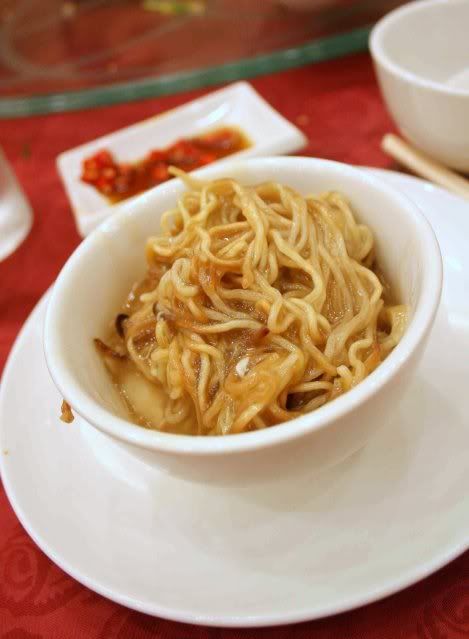 Not in chronological order, perhaps, but yeah, the egg noodle ....I love noodles done this way, so I was a happy tenter.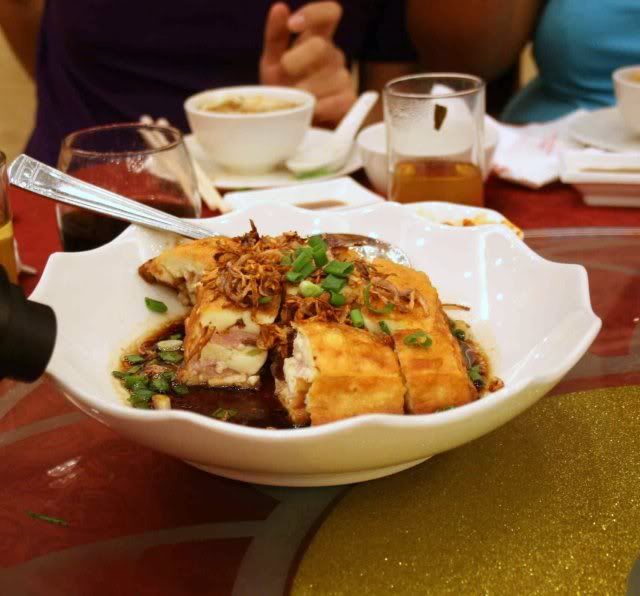 Fabulous Taufoo dish. Layers of beancurd with bits of ham in between. A mother of a ham sandwich, using tofu instead of bread. Yummy.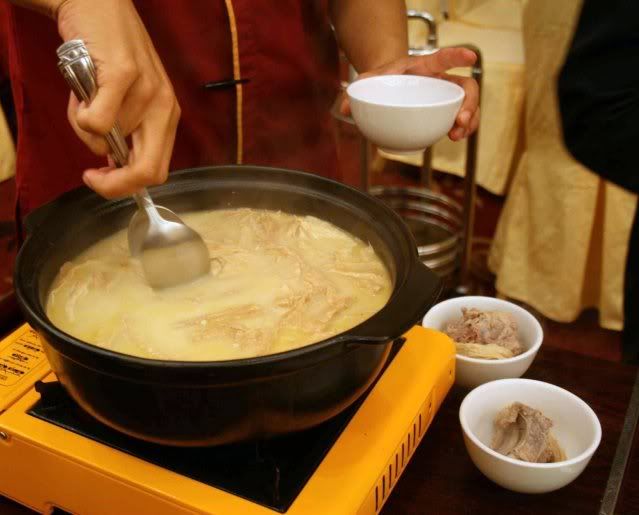 A lovely pork rib broth. Absolutely divine. I love my soups. Apparently daily intake of soup makes for a virile man. [source unverified]. And chilli. [also unverified]. Anyway, this soup had bits of bean curd skin, ginko, so its good for virility, memory, etc.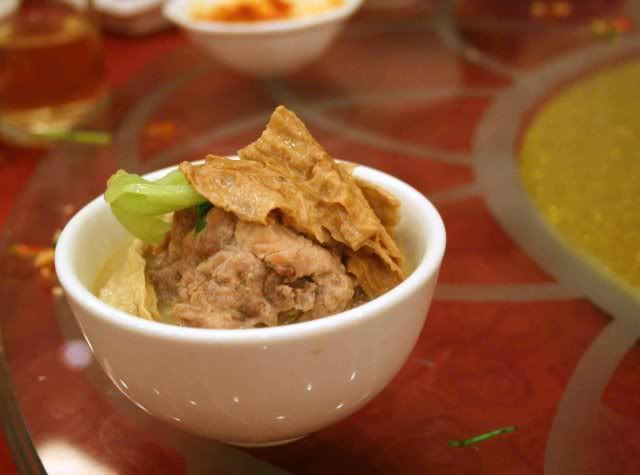 Just look at the bowl of soupy goodness. It could be a meal by itself.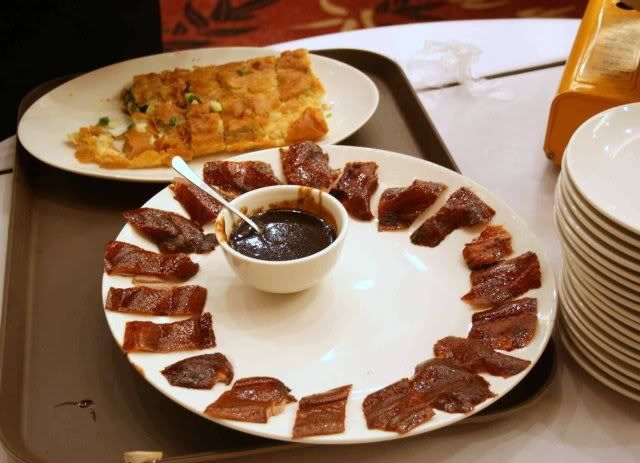 On the surface of it, it LOOKS like peking duck. It SOUNDS like peking duck. But it is NOT peking duck. It's GLORIOUS!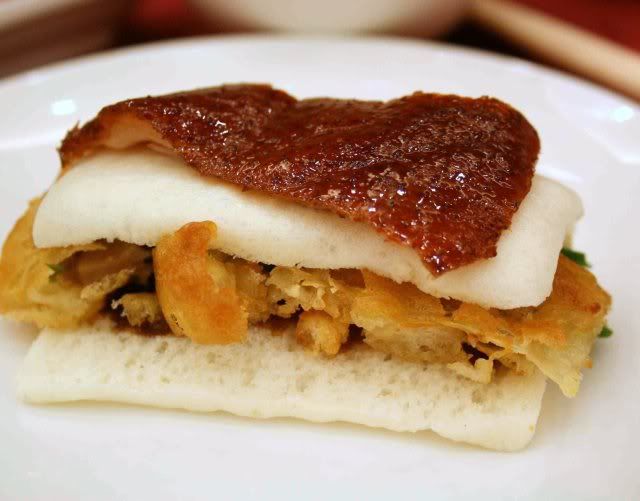 Called 8 Wind Duck. (Pat Fong Ngap), it is served on a steamed white mantau, with a sublimely crispy layer of something....oily, but delicious, topped with the crispy duck skin. ARGHHHHH, it is SOOOOO goooddd!!! Trust the goddesses to know how to order this.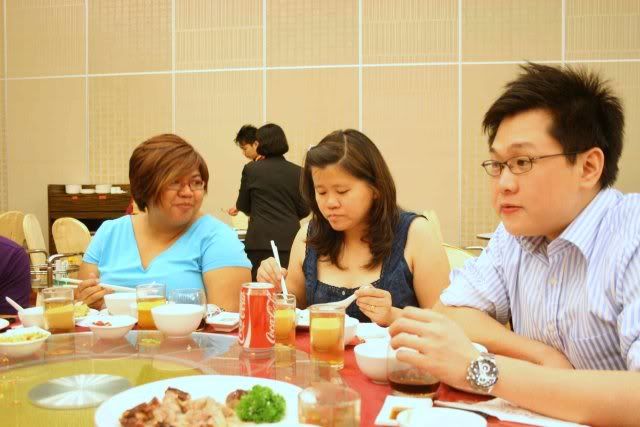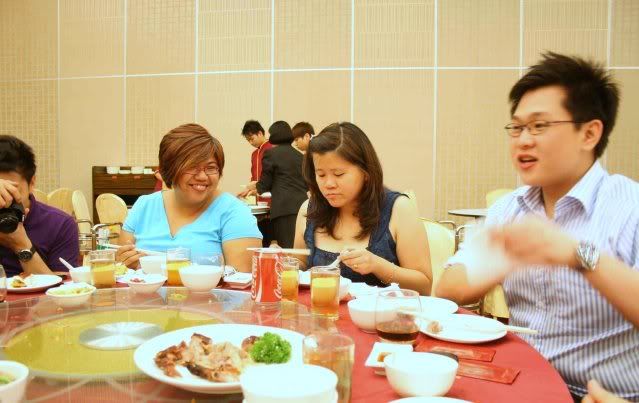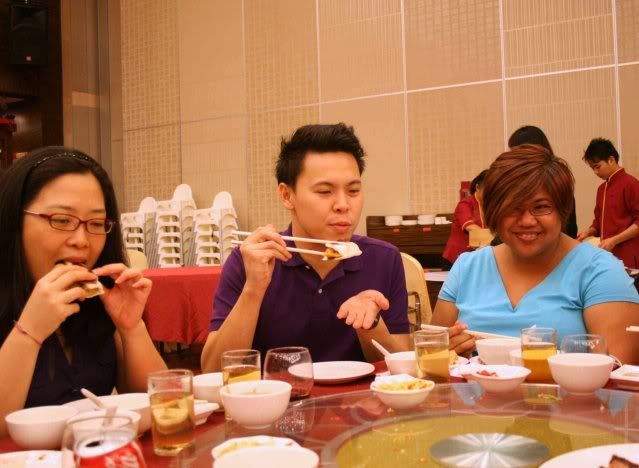 In all the three pictures, Thamby is busy posing while the rest are oblivious to the paparazzi. Such is the quality of being a celebrity. It's a wonder she doesnt get whiplash, seeing as to how quickly she can shake into a pose.

Eeks, is that all we had? Yeah, I think so. Anyway, I brought an Upside Down Pear and Ginger Pudding for dessert, also a Rum&Raisin cheesecake. Which I did not photograph.

Anyway, to celebrate yet ANOTHER old friend's return from Oz, I decided to redux supertanker again, and decided to try the original one at Damansara Kim. To my disappointment, as CNY was drawing near, they had limited choices of menu.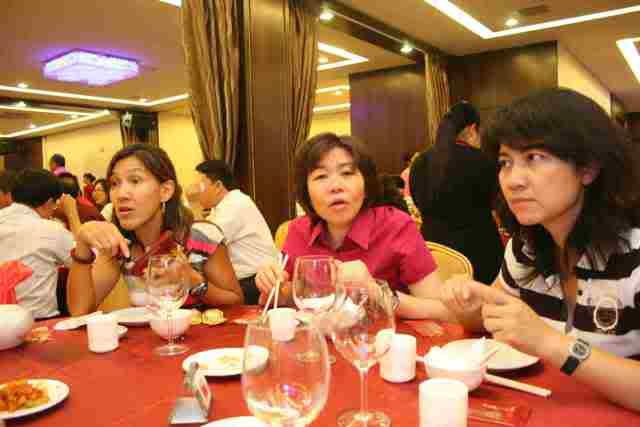 Fried Crab with Egg in Lettuce Wrap. No, there was no sharksfins. You see, the guest of honor is vehemently against sharksfins, and all who consume it. I shall steer clear of this controversy. But yeah, this dish was delicious.



Gratinated Large River Prawns. I am never too keen on chinese food being gratinated, as in my mind, cheese is really more a western genre. But with the world becoming borderless, and global, (except in Malaysia, where coconut shells are becoming increasingly fashionable as shelters, ribbit, ribbit), ingredients are no longer racial, and well, cheese on prawn in a chinese restaurant is no different from Kurma in Buckingham Palace I guess.



Tofu and Greens. Would take a genius to botch this up.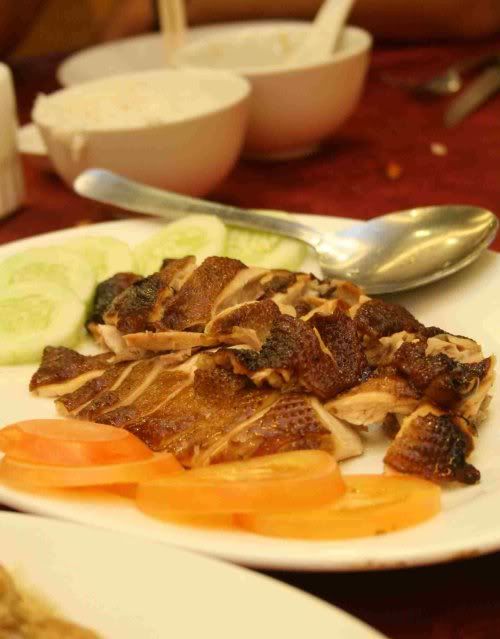 Smoked Chicken, one of their specialities, but alas, most of our table didnt take to the smokey taste. I am ambivalent.



Water convulva fried with shrimp paste. (Kangkang belacan).
Also goes by the name Water Morning Glory.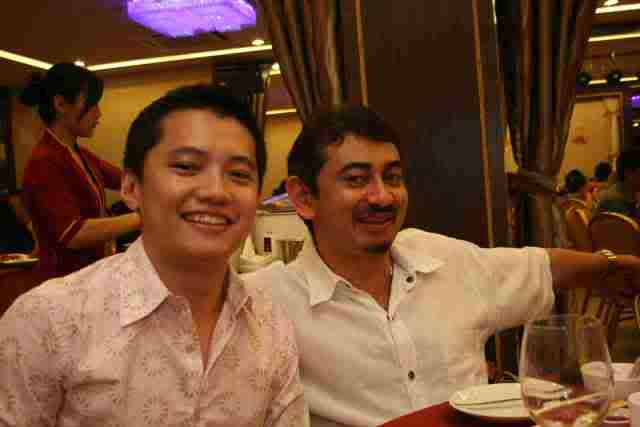 Who says I don't hang out with old friends. I've know the guy on the right before the guy on the left was even a dirty thought in his father's mind.



But yeah, Extra Supertanker (some more some of them thought I was kidding about the name) is definitely worth a revisit. I cannot wait to sink my teef into that glorious duckie dish. Prices are reasonable, I think less than RM50 per head for my 2nd meal, and around RM60 for the one with the special duck.

Posted: 03 Mar 2010 08:54 PM PST
Rais Yatim a PM wannabe? NAH. He's not even 'PM material'! Period
Posted: 03 Mar 2010 09:58 PM PST
PUTRAJAYA, March 3 (Bernama) - Information Communication and Culture Minister Datuk Seri Utama Dr Rais Yatim is convinced that Parti Keadilan Rakyat (PKR) will fold up in the wake of resignations by many of its members.
He said this trend had been expected and it was now becoming a popular topic.
He said this after attending a special briefing by the Malaysian Communications and Multimedia Commission (MCMC) on the Universal Service Provider, here on Wednesday.
He was asked to comment on the series of defections by several of the party leaders lately.
Rais said the reason was obvious because the party's policies were not based on the struggles for the people or to bring improvement to the country.
"It is based on the ambition of someone who wants to be the prime minister.
"It is also based on family politics because the party leader comes from a particular family. I don't have to mention any name.
(Source:
BERNAMA
)
Who has not harboured hope to be a PM if one is of 'PM material'? Well, maybe not Rais. Not even Razak Baginda who was Najib's political analyst.

At the onset of the trial of Altantuya, The Star Online reported:

Abdul Razak Baginda's wife Mazlinda Makhzan repeatedly maintained that her husband is innocent and alleged that he had been framed.
"He is a good man. He is not the Prime Minister of this country. He doesn't want to be one.
Now that statement really makes everyone wonders why she said what she said. Of course, all of us know who wanted to be a Prime Minister at that time - no need to mention any name!

Najib Razak and the Ghost of Altantuya (
Source
:
The Korea Times
)
Moving Units, Sundays Record + Pop Shuvit rock out Studio C Live Finale!
Posted: 02 Mar 2010 12:35 AM PST
If you're into all that's live and loud -- but, most importantly, fun -- then you'd better mark this coming Saturday on your calendars!
The final instalment of the Studio C Live series is its biggest line-up yet: two international acts, including Australian modern rock trio Sundays Record and US dance/punk band Moving Units (the latter was personally chosen by Blur to open their 2003 US tour, by the way).
Of course, our very own rap-rock boys, Pop Shuvit, will also be headlining the show, along with a string of local bands: An Honest Mistake, Rosevelt, A Ruthless Cleansing, Once Upon A Time There Was A Sausage Named Bob, and Azure for Janne.
Anyhoo, the Details:
When: 6 March 2010, 7pm - 11pm
Where: Kl Live, Life Centre
Admission: Free! (Open to ages 18 and up only, though)
Beginning January 2010, Studio C Live has brought live shows spanning 6 states in the Peninsula: Malacca, Kuantan, Ipoh, Penang, Johor Bahru and KL, showcasing 18 of the hottest local and international acts. Notable names already featured in the series include Disagree, Love Me Butch, One Buck Short, Bittersweet, Estranged, Bunk Face -- as well as London-based powerpop/thrash band The Applicants.
And, in case the Studio C Live finale's out-of-town acts are unfamiliar to you, here's some trivia about them:
Moving Units
An indie rock band from California, Moving Units was formed in 2001 by Chris Hathwell (drums), Blake Miller (vocals/guitar) and Johan Boegli (bass). They've opened for renowned bands like Interpol, Hot Hot Heat, Pixies, Blur and Nine Inch Nails. They've got 2 full-length albums: Dangerous Dreams and Hexes for Exes. Check them out here
Sundays Record
Hailing from New South Wales, Australia, this pop-rock trio consists of Ben Travis (vocals/bass), David Gretton (guitar/vocals) and Callen Miner (drums/vocals). Their debut EP, Broken Not Blinded, is available online. Listen to them here.
Calling for Frankfurt readers!
Posted: 03 Mar 2010 09:31 PM PST
Calling all readers, anyone staying in Germany - Frankfurt?
Would anyone be interested to host a lost girl in a foreign country?
I need a place to stay for two nights in Frankfurt urgently!
Would highly appreciated your help.
I know this is sudden, but it's really last minute.
As I might be flying tomorrow
!!!!!
(yes I know, it's sudden for me too)
Pls pm nicootan@gmail.com
Royal pardon for Kartika?; kid directs traffic at New York's JFK airport; Swiss offer extra small condoms for 12yo boys
Posted: 03 Mar 2010 08:31 PM PST
Just one more day to the weekend, but let's not forget about the world around us. Here's today's top stories!
A powerful 6.4-magnitude earthquake rocked Taiwan this morning, causing power outages. [ABC News] 
Kartika Sari Dewi, who's due to be caned for drinking beer, may either be pardoned by the Sultan of Pahang or punished as soon as possible. [TODAYonline]
Fans of Utusan Malaysia, prepare to switch your subscriptions! PERKASA, the further-right-than-UMNO Malay-rights-defence group has gotten a permit from Home Ministry to publish their own paper called Suara PERKASA. [Malaysiakini]
The Swiss government has produced extra small condoms for boys as young as 12. The Hotshot condoms are on sale in Switzerland after research found that not enough 12 to 14-year-old boys were having protected sex. [Telegraph.co.uk]
An air traffic controller at New York's JFK airport got suspended for allowing his son to clear planes for departure and another to speak to pilots at one of the world's busiest flight destinations. [CBS News]

Twitter closes in on 10 billion tweets. [Mashable]
West Side Story - The Original Broadway Musical will land on our shores in May! 12-24 May, Istana Budaya. [The Star]
Just for laughs: 9 ways to get your man card revoked in 2010! [Guyism]
(Photo from Guyism)